---
Men's Fitness Magazine

For more information, call (800) 998-0731
---
July 1997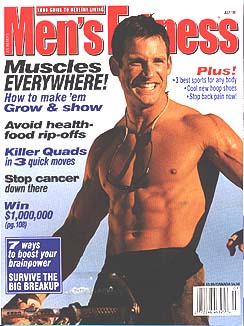 Men's Fitness is dedicated to the man who likes to stay in shape. It contains articles on training, health, nutrition, and sports related recreation. This magazine is for the man who keeps in shape and likes to read about fitness related adventures and articles. The model on the cover is Rusell Brown.
---
July 1997 - Table of Contents
Volume 13, Number 7
---
Fitness & Exercise:
Spinning your Wheels: The lowdown on two new studio-cycling videos.
Quad Blasting Basics: No fancy tricks necessary - just three can't fail leg building exercises.
Make Isometrics Work for you: Charles Atlas' classic regimen can emphasize the fine details of your muscles.
Training Extra: Why healthy bodies last longer, when high blood pressure can be a plus, why crunch haters should do ab work first and more.
Success Story: Losing 30 pounds helped this single dad accomplish a mammoth task: keeping up with his three kids.
Stretch Your Way to Bigger Muscles: Our Personal Trainer Series shows you how to combine stretching with weight training for big results.
Health:
Getting Cancer There: Testicular cancer is a threat no man should ignore. What you must know about this taboo subject.
Health Extra: Prevent poison-ivy itch, laugh at allergens, get the right vitamin mix and more.
Bye Bye, Back Pain: Eighty percent of us will have hurting backs at some point. How to be prepared when pain strikes - or prevent it from happening at all.
Behavior & Money:
Soothe Your Mind Naturally: Herbs might be a cheaper, safer solution for depression and anxiety.
Mind Extra: Marital bed trouble, belief and medications and more.
Get Smart!: You can increase your brainpower. Follow these tips to start making the most of your gray matter.
Fast Track to Millions: Entrepreneurs and heirs aren't the only guys who get rich. You can, too, with a clever spending plan.
Financial Extra: Banish Internet busy signals, slash insurance costs, make your love last and more...
Food & Nutrition:
Picnic Picks: Prepare five delicious, nutritious summer dishes in a snap.
Nutrition Extra: A cool zero-fat dessert, a diet testosterone link, an easy mock mayo and more.
Is Health Food really Necessary? We searched the aisles of the natural foods market to find out.
Gear & Appearance:
Shear Madness: From the trusty razor to high tech lasers, how to get rid of unwanted body hairs.
Hot Hoop Shoes: Burn up the court with these five lightweight, high tech basketball mid-tops.
Sex & Relationships:
Surviving Divorce: The collapse of a marriage can be devastating. But you can move past it and emerge a better man.
The Myth of the Deadbeat Dad: Many aren't the scoundrels they're made out to be. Why innocent men have been forced to fight for their rights as fathers.
Sport, Adventure & Travel:
Kill the Umpire! Bawling out a referee is one thing. Being one is something else entirely.
Three Sports you can play Forever: These fun activities will keep you fit and injury free. Start now and continue for the rest of your life.
The Sports Pages: Win a million bucks just like that. Our panel of sports superstarts will show you how.
America's Number One Outdoor Town: Boulder, Colorado, is much more than just a winter paradise.
Travel Extra: Communicate in any language, eat right on the road, surf the Net for surf and more.
In Every Issue:
Editor's Letter
Publisher's Letter
Letters
Fit News
AIDS Watch
Ask our Experts
Buyer's Guide
The End Zone
---