---
Men's Fitness Magazine

For more information, call (800) 998-0731
---
August 1997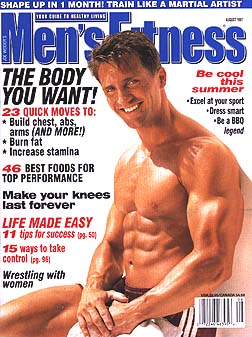 Men's Fitness is dedicated to the man who likes to stay in shape. It contains articles on training, health, nutrition, and sports related recreation. This magazine is for the man who keeps in shape and likes to read about fitness related adventures and articles. The model on the cover is Matt Workman.
---
August 1997 - Table of Contents
Volume 13, Number 8
---
Fitness & Exercise:
The Ultimate Upper-Body Exercise: Three pull up variations you can do without leaving the house.
Powerful Legs: Blast your hamstrings for a great lower body workout.
I Wrestled a Woman: Whoever thought coed exercise could be so tough?
Training Extra: Jump higher, bolster your back, fuel up for the gym and more.
Success Story: Midnight runs helped a Georgia man drop nearly 100 pounds.
Achieve Martial Bliss: A personal trainer shows you how to incorporate proven fighting techniques into your weight and cardio regimen.
From Bruce Lee to Ninja Turtles: The colorful history of martial arts in America.
Health:
Save Your Knees: Keep these delicate joints in shape for any game - for life.
Health Extra: Indoor tanning and UV rays, circumcision and STDs, coffee and anti-oxidants and more.
Beat the Heat: Warm, muggy days can slow you down and wipe you out. Follow our 10 tips to stay in the game safely.
Stay Fertile: How to keep your sperm alive and kicking until you need them.
Longevity Extra: Middle age spread stopper, prostate problem preventive, another heart healthy beverage and more...
Appearance:
Dressed to Chill: How to stay cool and clean, even while the other guys are drowning in sweat.
Food & Nutrition:
Working Out? What to eat and when: To perform your best, you need a smart eating plan. This is it.
Nutrition Extra: Labels to look out for, an appetite quenching trick, a versatile mini meal and more...
Be King of the Grill: It's summer. You're a man. Rule your next cookout with our state secrets for perfect grilling.
Behavior & Sexuality:
Be a Team Player: Success is often about working well with others. Tips for winning teamwork, and sharing the glory.
Mind Extra: Words that will boost your sex life, how sleep can help you socialize and more.
Don't Get Dumped: How to spot signs of trouble in your relationship - before it's too late.
Keep Your Cool: Don't blow up when the going gets tough. With these tips, you can laugh adversity in the face.
Impress the Boss: Survive your next job evaluation and turn it to your advantage.
Sports, Adventure & Travel
The Coolest Water Sport: Why is wakeboarding winning so many enthusiasts? It's fast, fun and easy to learn.
The Sports Pages: The pure thrill of street luge. Plus: getting your game up to speed.
Austin Brewin's: You'll find a cauldron of fun deep in the heart of Texas.
Travel Extra: Score rooms in booked hotels, know when to pull over, locate trip planning tips on the Web and more.
In Every Issue:
Editor's Letter
Publisher's Letter
Letters
Fit News
AIDS Watch
Ask our Experts
Buyer's Guide
The End Zone
---