---
Men's Fitness Magazine

For more information, call (800) 998-0731
---
September 1997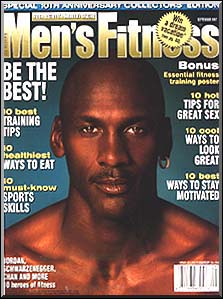 Men's Fitness is dedicated to the man who likes to stay in shape. It contains articles on training, health, nutrition, and sports related recreation. This magazine is for the man who keeps in shape and likes to read about fitness related adventures and articles. The athlete on the cover is Michael Jordan.
---
September 1997 - Table of Contents
Volume 13, Number 9
---
The 10th Anniversary Special!
10 Men of Achievement: Michael Jordan, Arnold, Jackie Chan and seven more top fitness heroes.
The Best - and Worst - Exercises: The moves you need for building muscle - and a few you don't need at all.
Health Helpers: Ten medical advances that can help you live better and longer - starting today.
Eat to Live (Better): Feed your head with the most important nutrition findings of the last 10 years.
Be the Best in Bed: Ten simple secrets of great sex.
Appearance for Everyman: You'll always be in style if you follow these 10 timeless grooming tips.
The Coolest things: Ten areas in which sporting good have made giant leaps of progress.
Get Motivated! Ten experts tell you how to reach the top.
Essential Sports Skills: Can you play D? Or sink a crucial putt? Ten things every athlete should known how to do?
Bonus Poster: Workout, nutrition and motivation essentials.
The 10th Anniversary Special! Part Two
Editor's Letter
Publisher's Letter
Letters
10 Years of Men's Fitness: A look back at our finest moments - and a few we're less proud of.
The Very Best Training Tips: We've boiled the essence of great workouts down to 10 principles that will help you get fit in a hurry.
Money Smarts: Rules to follow when you're going for the gold.
Personal Test: Could you meet these rigorous physical challenges?
Bad Hair Years: A few 'do's that should have been don't in this past decade/
Take this to the Gym: Our bag's stuffed with helpful gear to enhance your workouts.
The Future of Fitness: A few far our products you may (or may not) be seeing at stores.
Muscle or Dinosaur? Our challenging quiz demands gym expertise and paleontological prowess.
The best Fitness books and videos: Don't waste your time with useless information. These titles deliver top notch reading and viewing.
Athletes on Film: Who says jocks can't act? Some of the most memorable moments in sports occur when players hit the silver screen.
It Came from the Gym: Ever been confronted by an angry Bench Hog? Or delayed at the water fountain by a slurping Dromedary? A look at some of the frightening creatures who inhabit fitness centers.
The Best Moments of a Man's life: And those you'd rather forget about.
Ask our Experts: From sets to sex, answers to the questions you care about most.
Guaranteed Good Time Destinations: You're sure to have fun at these 10 ultimate vacation sports.
Top '10': The votes are in, and the winner is...
Buyer's Guide:
The End Zone: Wait till you see the cover of our 20th anniversary issue!
---