---
Men's Fitness Magazine

For more information, call (800) 998-0731
---
October 1997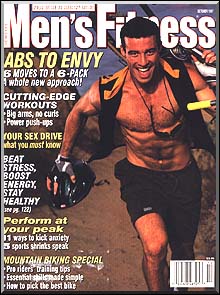 Men's Fitness is dedicated to the man who likes to stay in shape. It contains articles on training, health, nutrition, and sports related recreation. This magazine is for the man who keeps in shape and likes to read about fitness related adventures and articles. The model on the cover is Paul Foxson.
---
October 1997 - Table of Contents
Volume 13, Number 10
---
Fitness & Exercise
Not Your Fatherís Push Up: Three muscle blasting variations on an old favorite.
Enviable Abs: Sculpting an iron midsection requires more than endless crunching. Learn a brand new approach to shredded abs.
Rowing: A Full Body Workout: Boathouse indoor rowing classes will take your entire body higher.
Training Extra: The best time to work out, why you should talk to your muscles, bad news about air gliders and more.
Success Story: This reader showed up to his high school reunion a lesser man - 100 pounds less, in fact.
Win the Arms Race: This monthís Personal Trainer Series shows you how to bulk up your arms - without doing curls.
Health
Everyday Dangers: What are the odds youíll be killed in an elevator? Or seriously injured playing your favorite sport? The facts about whatís risky and what isnít.
Health Extra: Why talking keeps colds at bay, how to avoid bad auto air, a new look at back belts and more.
The Peaceful Martial Art: Tai chi will soothe your nerves, and it may even help you live longer and healthier.
Longevity Extra: A prostate saving nutrient, an exercise age adjustment, a mind preserving vitamin and more.
Special: Mountain Biking
King of the Hill: Our guide to off road riding is stuffed with everything you need to rule the mountain.
5 Great Riding Tips: These easy to learn skills will have you screaming down trails in no time.
How the Pros Train: Elite riders teach you how to shape your workouts.
Buying a Bike? Donít get stuck with a lemon. Heed our 10 tips and get a model thatís perfect for your needs.
Gear for Fat Tires: Check out this collection of cool mountain biking accessories.
Food & Nutrition
Hot Waters: The scoop on the wave of enhanced ďperformanceĒ waters poised to flood store shelves.
Nutrition Extra: The best breakfast, a tasty food preserver, when to hold the milk and more.
Pasta Perfect: This quick, easy meal is every guyís best friend. Now see how you can make it sing.
Appearance
The Outdoors Are In: These rugged threads look and feel at home on the trail or at your favorite bar.
Behavior & Sexuality
The Chemistry of Love: Hormones can turn your body into a lab experiment run amok. Find out what happens inside when a beauty catches your eye.
Beat Performance Anxiety: Eleven great tips on keep your cool when the pressure heats up - in and out of bed.
Mind Extra: When not to meet women, a depression danger, binge thinking and more.
Are You a Grown-Up?: Itís sometimes hard to tell these days.
Conquer Your Addiction: Whether your problem is drugs, food, sex or exercise, learn the trouble signs. Then take our quiz to find out if you might be addicted.
Evil in the Office: We corralled a menagerie of common workplace beasts - and we tell you how to tame Ďem.
Sports, Adventure & Travel
5 Great Road Trips: Few experiences combine scenery with unforgettable fun like road trips do. Hop in and see what we mean.
The Sports Pages: Five of the best minds in sports offer advice thatíll help you master any game. Plus: Leave your competition in the dust.
In everry issue
Editor's Letter
Publisher's Letter
Letters
Fit News
AIDS Watch
Ask our Experts
Buyer's Guide
The End Zone
---