---
Men's Fitness Magazine

For more information, call (800) 998-0731
---
November 1997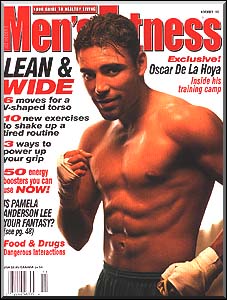 Men's Fitness is dedicated to the man who likes to stay in shape. It contains articles on training, health, nutrition, and sports related recreation. This magazine is for the man who keeps in shape and likes to read about fitness related adventures and articles. The athlete on the cover is Oscar De La Hoya.
---
November 1997 - Table of Contents
Volume 13, Number 11
---
Fitness & Exercise
GET A GRIP
Boost your hand and finger strength with three exercises you can do in your backyard.
BUILD A WIDE BACK
These moves will help you cultivate the killer lats and V-shaped tape you want.
GEAR UP FOR WINTER SPORTS
Workouts specifically for skiiers and snowboarders, straight from the U.S. national teams.
TRAINING EXTRA
New info on altitude training, energy bars and more.
10 NEVER SEEN EXERCISES
The newly minted moves featured in our Personal Trainer Series will work your muscles hard and eliminate gym boredom.
OSCAR PERFORMANCE
Boxer Oscar De La Hoya knows how to add muscle fast. You can, too - we've got his gym workouts, cardio regimen and dietary plan.
Health
WHY THE FLU SHOT's FOR YOU
Even healthy young people should arm themselves with this safe, inexpensive defense against a wily foe.
HEALTH EXTRA
Your next dental visit could be painless..
50 WAYS TO ENERGIZE
Don't let lousy weather and fatigue drag you down. These easy tips will charge you up for the long run.
MYTHS OF AGING SHATTERED!
Getting older doesn't have to mean losing your edge, your muscles, your teeth or your sex drive.
LONGEVITY EXTRA
A promising new weapon against prostate cancer, and other long life advice.
Food & Nutrition
BECOME SUPPLEMENT SAVVY
Get the most out of dietary supplements and over the counter drugs.
NUTRITION EXTRA
How to whip up a balanced breakfast in no time, plus more food tips.
Gear & Appearance
THE KEY TO GETTING HIRED
Your sparkling resume and interview skills won't save you if you're dressed wrong. Follow these 14 tips to look like the right man for the job.
WEAR THESE SHOES
You'll swagger in comfort and style in casual sneakers.
Behavior & Sexuality
ARE SEXUAL FANTASIES OK?
They're more than OK - they're good for you. A leading sec therapist explains why, and how fantasizing can spice up your sex life.
THE SINGLE MAN'S GUIDE TO THE HOLIDAYS:
With our alternatives, you won't have to endure another Lonely Guy's season in hell.
MIND EXTRA
Why stressed out sportsmen should be extra cautious, and more.
I WAS ALMOST ABORTED
A man discovers his chilling brush with death.
DON'T GO BROKE
Gift buying can get pricey this time of year. Avoid these 10 pitfalls to fatten your wallet.
FINANCIAL EXTRA: The dangers of debit cards... the hidden costs of home ownerships...
Sports, Adventure & Travel
TAKE IT INSIDE
Many of your favorite sports don't migrate south for the winter; they simply move indoors. How to keep your skills and have fun year round.
THE SPORTS PAGES: Darts: fun, challenging, and you can drink beer while you play. Plus: mastering hand - eye coordination.
GREAT FAMILY VACATIONS
Don't get sucked into a tourist trap this year. These four affordable destinations offer fun activities for everyone in your posse.
TRAVEL EXTRA
Quick tips on getting bang for your vacation buck.
In every issue
Editor's Letter
Publisher's Letter
Letters
Fit News
AIDS Watch
Ask our Experts
Buyer's Guide
The End Zone
---