December 1997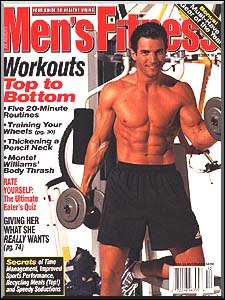 Men's Fitness is dedicated to the man who likes to stay in shape. It contains articles on training, health, nutrition, and sports related recreation. This magazine is for the man who keeps in shape and likes to read about fitness related adventures and articles. The athlete on the cover is Jonathan Aube.
---
December 1997 - Table of Contents
Volume 13, Number 12
---
Fitness & Exercise
BUILD A STRONG NECK
A sturdy neck looks good and protects your noggin. These three moves will rescue yours from toothpick status.
WORK ALL YOUR LEG MUSCLES
For maximum development, you've got to target some parts you may not know you have.
SUCCESS STORY
Once saddled with a big ol' Michigan tummy, this man lost more than 200 pounds en route to becoming a trainer.
MONTEL WILLIAMS GETS SERIOUS
Join the muscled up talk show host for a killer morning in the gym.
TRAINING EXTRA
Advice on how to prevent ankle and knee injuries and more...
20 MINUTE WORKOUTS
Sure, you're busy. That's why this month's Personal Trainer Series features five superfast regimens. Hit the gym and hammer one out, or string a few together.

Health
GERM WARFARE
Nasty bacteria and viruses lurk everywhere. How to keep your encounters friendly.
HEALTH EXTRA
A warning for cross trainers, plus good news about a popular sleep aid.
HEALTH AND FITNESS FOLLIES OF 1997
A whimsical collection of not so illustrious moments from the past year.
PROTECT YOUR PROSTATE
Expert medical advice on how to stop 'male problems' before the start.
LONGEVITY EXTRA
How depression can hurt your heart, why you might need more calcium and other long life advice...

Bonus Section
GEAR OF THE YEAR
From mountains bikes to sports watches, in line skates to colognes, we've got the best gifts for guys covered. This is the stuff to buy - or, better yet, receive this holiday season.

Food & Nutrition
NO MORE COLD TURKEY
Don't subject yourself to another dried out drumstick. Revitalize leftovers with these easy, healthy recipes.
NUTRITION EXTRA
Tips on avoiding fat traps and dangerous pesticides.
WHAT KIND OF EATER ARE YOU?
Take our quiz and find out how you can avoid the dreaded holiday weight gain.

Appearance
LOOK GREAT IN A TUX
Mix tradition with a bit of flair at your net formal occasion.

Behavior, Sexuality and Career
HOT, FAST SEX
When time's short, you've got to take care of business quickly.
BOOST YOUR SPORTS PERFORMANCE
Make yourself stronger, speedier and more confident with the help of hypnosis.
MIND EXTRA
How to bridge marital rifts. Plus, improve your mood by changing clothes.
WHAT WOMEN REALLY WANT
The ancient quandary of what to get her for Christmas has finally been untangled.
15 WAYS TO BE HAPPIER
Be a kid again. Treat yourself, With these tips, it's easy to enjoy life - even during the hectic holidays.
MAKE THE MOST OF YOUR TIME
Learn the art of skillful schedule juggling to maximize every precious minute.
FORTIFY YOUR RESUME
How to convince employers you're the man they're looking for.

Sports, Adventure & Travel
THE SPORTS PAGES
Ice climbing is arduous, perilous and lots of fun. We've got the essential skills, the coolest gear and the best frozen sheets to scale.
CARIBBEAN ADVENTURES
We searched the tropics for the best hiking, windsurfing, fishing, diving...
TRAVEL EXTRA
Helpful information for frequent fliers and more...

In every issue
Editor's Letter
Publisher's Letter
Letters
Fit News
AIDS Watch
Ask our Experts
Buyer's Guide
The End Zone