---
Muscle Media 2000 Magazine

For more information, call (800) 615-8500
---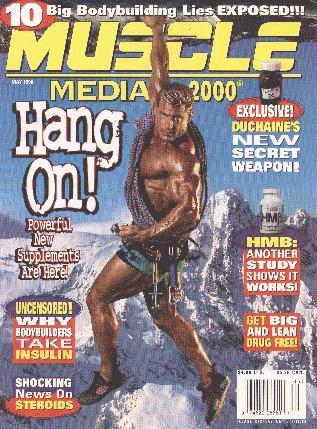 The May issue has aritcles on 1GF-1, 10 Big Bodybuilding lies, and much information on steroids, and other supplements, including Bill Phillip's own EAS, and HMB. They also talk about sex, beautiful girls, and their new 'sexy' style look, which will not affect anything, but more sales, and they promise their readers will still have access to the best, straighforward, and most accurate information on fitness and physique development in the business today.
---
Bill Phillips' Muscle Media 2000 considers itself the risk takers of bodybuilding magazines, which offends some people, and brings out a lot of controversy in some of the articles that are written. Muscle Media 2000... the honest, cutting edge information on how you can build a better body!
---
Table of Contents - May 1996 issue
---
Features:
Hang On! Flavone X: The next frontier in drug free muscle building.
Built Like a Brick House: Building the foundation to a strong body.
Time to Grow: Working with the body's clock to maximize growth.
Drugs Across the Pond: An in depth interview on steroids in Europe
Science of Rest Intervals: New concepts on varying between set ret.
10 Big Bodybuilding Lies: The Truth is Revealed!
The Right Way: Training, nutrition and supplementation for women
Why 1GF-1 Doesn't Work, but I can Fix it: A complete look at the use of 1GF-1
The Arms Race, Part 3: Training for major guns.
Science Health & Nutrition:
Barry Sears: 25 years too soon: Does the Zone diet really work?
Nutri-Facts: Hazardous Waist - causes of abdominal distention.
Body Tech: Scientific information on nutrition, steroids, & training
Departments
No Holds Barred: Letter from the editor
Letters: Readers speak out
News & Tidbits: The latests going on
Rant: Size isn't everything, or is it?
Blast from the Past: Training intensity - learn & practice this vital skill
MM2K Champions: Three Muscle Media 2000 readers who are winners
Questions & Answers
Uncensored Q&A: Bill Phillips gives you straightforward answers
Ask the Guru: Dan Duchaine answers questions on any and all topics
T.C. Talks: T.C. Luoma answers reader's questions
Medibolics: Michael Mooney on the health benefits of steroid use
Scientific Inquiries: Anthony Almada answers questions on supplements
---