---
Muscle Media 2000 Magazine

For more information, call (800) 615-8500
---
December 1996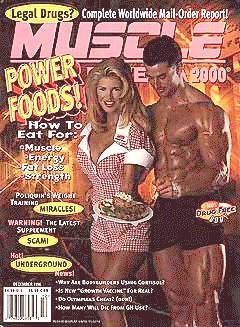 Bill Phillips' Muscle Media 2000 considers itself the risk takers of bodybuilding magazines, which offends some people, and brings out a lot of controversy in some of the articles that are written. The magazine has a lot of questions and answer sections, and takes a personal approach to the art of bodybuilding. It is published 9 times a year.
---
December 1996 Table of Contents
---
Features:
Power Foods: How to control your energy levels with precision nutrition!
Strive: A new approach to an old problem. Give this new target loading workout a try.
Worldwide Mail-Order Drugs - The Whole Story! An investigative report.
Supporting Cast Supplements: A look at some of the lesser known but important nutrients.
How to build awesome, 3-D thighs in record time! Revolutionary ideas on how to build up the often ignored hamstrings.
Ab Training from Mars: Ten high tech training tips for developing out of this world abs.
Science Health & Nutrition:
HMB: A complete scientific look at one of the bodybuilding industry's most talked about supplements.
A case for Saw Palmetto: The evidence suggests it's not guilty of violating testosterone's "Rights".
Homeopathic Supplements: Fact, fiction or fraud?
Androgens: An in depth look at the hormones that separate the men from the boys.
Research Update: Relevent research for bodybuilder.
Steroid Star Profile: A review of Sustanon 250.
Departments
No Holds Barred: A letter from the editor
Letters: Readers speak out
News & Tidbits: The latest goings-on
Notes from the Underground: Uncensored, hardcore, radical bodybuilding news.
Rant: Erection Injection - More sick stuff from Dan
MM2K Champions: Meet the winners of the cover model search
Questions & Answers:
Uncensored Q&A: Bill Phillips gives you straightforward answers
Ask the Guru: Dan Duchaine answers questions on any topic
T.C. Talks: T.C. Luoma answers reader's questions
A Question of Strength: Charles Poliquin answers questions on training.
---