---
Muscle Media 2000 Magazine

For more information, call (800) 615-8500
---
January 1997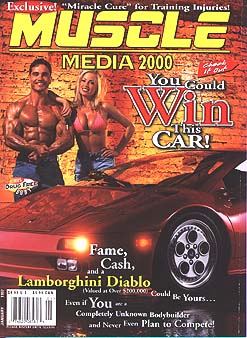 Bill Phillips' Muscle Media 2000 considers itself the risk takers of bodybuilding magazines, which offends some people, and brings out a lot of controversy in some of the articles that are written. The magazine has a lot of questions and answer sections, and takes a personal approach to the art of bodybuilding. It is published 9 times a year.
---
January 1997 Table of Contents
---
Features:
Win a Lamborghini Diablo! You could win the biggest prize in bodybuilding history!
Chin-Ups: A Primitive Exercise for a High Tech Back: Building Wider, tichker lats the old fashioned way.
The Sex Pills: An in-depth review of 15 aphrodisiacs reported to enhance potency and muscle building.
Miracle Cure? Surgery may not be the only way to overcome training injuries.
Serious Advice on a Humerus Subject: A little work on some small muscles can make a big difference.
Science Health & Nutrition:
Bodybuildin's Best Protein Foods: A unique look at what you should look for in a quality protein food.
Dr. Fat Speaks: An interview with the original 'Fat Guru', Dr. Udo Erasmus.
Index: Amusing compilation of health related statistics.
Medibolics: Possible alternative uses and bodybuilding applications of various medications.
Research Update: Relevant Research for Bodybuilders
Steroid Star Profile: Dynabolon - a unique European wonder.
Departments
No Holds Barred: A letter from the editor
Letters: Readers speak out
News & Tidbits: The latest goings-on
Rant: The Hairs and the Hair Nots
Blast from the Past: Undercover in Tijuana: A special investigative report.
Questions & Answers:
Uncensored Q&A: Bill Phillips gives you straightforward answers
Ask the Guru: Dan Duchaine answers questions on any topic
T.C. Talks: T.C. Luoma answers reader's questions
A Question of Strength: Charles Poliquin answers questions on training.
---