---
Muscle Media 2000 Magazine

For more information, call (800) 615-8500
---
February 1997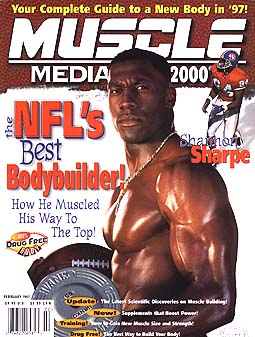 Perhaps we should rename this magazine EAS 2000 catalog, considering the amount of advertising that is in this magazine for them. My god, they even have 24 pages in a row about EAS's product. If I wanted a catalog, I would have asked for one! What I really want is good info on bodybuilding, which fortunately, this issue still has some of it.
Bill Phillips' Muscle Media 2000 considers itself the risk takers of bodybuilding magazines, which offends some people, and brings out a lot of controversy in some of the articles that are written. The magazine has a lot of questions and answer sections, and takes a personal approach to the art of bodybuilding
---
February 1997 Table of Contents
---
Features:
Shannon's Looking Sharpe: Pro football player or bodybuilder? You make the call!
Putting It All Together: A simple, complete training program for building new muscle size & strength.
Land of the large... Home of the strange: A brief pilgrimage to bodybuilding's "Promised Land"
Massive Changes: Produce maximal muscle mass in minimal time!
Everybody into the Glutamine Pool: Stunning new research on glutamine!
Appetite Suppressants: A pill to pull comparison of bodybuilding's latest pharmaceutical trend.
The Keith Klein shape up challenge champions: Meet the motivational winners of the Keith Klein challenge.
Science, Health & Nutrition:
The Science of sleep: An awakening look at a phenomenon that can make or break your bodybuilding efforts.
Estrogen - Side effects and solutions: An in depth look at natural and pharmaceutical testosterone boosters and estrogen blockers.
Medibolics; Possible alternative uses and bodybuilding applications of various medications.
Research Update: Relevant research for bodybuilders
Departments
No Holds Barred: Letter from the editor
Letters: Readers speak out
News & Tidbits: The Latest Going Ons...
Questions & Answers
Uncensored Q&A: Bill Phillips gives you straightforward answers
Ask the Guru: Dan Duchaine answers questions on any and all topics
T.C. Talks: T.C. Luoma responds to readers queries
A Question of Strength: Charles Poliquin answers questions on training
---