---
Muscle Media Magazine

For more information, call (800) 615-8500
---
September 1997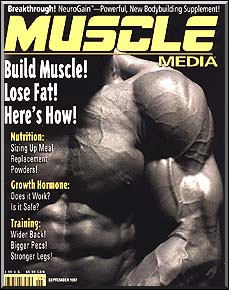 'How do I build a stronger, more muscular body?' is the question of which Bill Phillips has made a living from. It is also the focus of virtually all the books and newsletters that he has written over the past decade.
Bill Phillips' Muscle Media magazine considers itself the risk takers of bodybuilding magazines, which offends some people, and brings out a lot of controversy in some of the articles that are written. It's logo is 'the art & science of bodybuilding'. The magazine has a lot of questions and answer sections, and takes a personal approach to the art of bodybuilding
---
September 1997 Table of Contents
Issue Number 62
---
Features:
Personal Trainer: How to build a great back!
Profile: The Gold's Gym Guy: No... not that funny looking dude on the T-shirt... Mike Ryan - the real Gold's Gym guy.
Inspiration: Cool off with Roger Applewhite, Tracy Katz and Brian Regnaert
The Poliguin Principles: Countdown to injury free bench pressing: The no tears (or Tears) Formula for a better bench press.
Spotlight: The Bodybuilding Doctor, Mauro Di Pasquale, M.D.: Meet Muscle Media's newest expert in the science of bodybuilding.
Special Features:
Sizing up Meal Replacement Powders: The bodybuilder's fast food.
Growth Hormone: The Muscle building, fat burning fountain of youth! It's not for everyone... or is it?
Food Facts for Fit Folks: An interview with nutritionist Keith Klein.
The Mind Muscle Connection: The next great frontier in drug free bodybuilding.
3-D Analysis of the Squat: Head Back to the Rack... Pain Free!
Departments
No Holds Barred: No Holds Barred: The foundation of achievement is 'Intense Desire'.
Reader's Letters: Warning! Reading Muscle Media may cause rapid gains in muscle mass.
Research Update: The ACSM 44th annual meeting, May 28-31, 1997, Denver, Colorado.
Questions & Answers
Uncensored Q&A:Androstenedione pilot study results, nutrition tips, steroids in Mexico, and a new way to get cut.
A Question of Strength:'Swiss Ball' training for greater strength, the benefits of chiropractic care, and a seminar you don't want to miss.
Ask the Guru: The lowdown on cheap whey protein powders, nor-androstenedione, and myostatin.
---