---
Ms. Fitness Magazine

For more information, call (541) 830-0400
---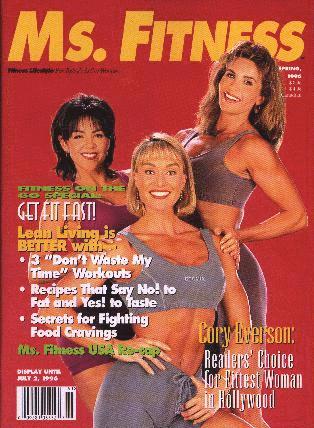 The Spring 1996 issue of Ms. Fitness Magazine contains articles on Cory Everson, Killer Abs, Back Blasting Workout, Supplements, Nutrition, and much more. This magazine is the official magazine of Wally Boyko's Ms. Fitness contests. The models on the cover is Cory Everson, Michelle LeMay, and Cameo Kneuer.
---
Ms. Fitness Magazine is a magazine for today's active women, with a fitness lifestyle. It provides information and coverage on the Ms. Fitness contests around the globe. It also provides info on nutrition, training, profiles on people, and other articles and pictures on up and coming fitness contestants.


---
Spring 1996 - Table of Contests
---
Features
Cory Everson: Readers Choice for Fittest Woman in Hollywood
Eating Right for People in the Fast Lane: Make your gast foods healthier with these simple tips.
Killer Abs: Stop longing for washboard abs; make them a reality with this time saving workout.
Partner Leg Stretches: Accomplished choreographer and Ms. Fitness competitor Jennifer Bell helps get you loose and limber.
Back Blasting Workout: Make the most of your limited time in the gym with this super quick and effective routine!
A Spa Owner's Guide to Fasting: Health Spa expert Susan Lombardi teaches how fasting may be your best route to a more efficient body.
Up close and Personal: Take a peek behind the scenes of Ms. Fitness Hollywood through the eyes of a first time competitor.
Nutrition Quackery: Miracle foods and magical supplements are all the rage, but not all are safe. Let the experts teach you how to separate the harm from the hype.
Food insight reports: Learn how to manage food cravings and cut the fat from your diet.
21st Century Health Care: Journey into the future of health care with some of the country's most visionary professionals.
Ms. Fitness USA Coverage
A Day in the Life of Fitcamper X: Peek into the diary of a Fitcamper who found the secrets of getting and staying lean and mean in Malibu, California.
Enviro-Tips: Healthy solutions for the Planet: Actor and environmental champion Ed Begley, Jr.'s tips on improving the earth's health.
Supplements: The Natural Road to Health: Taking the right supplements can help safeguard your health down the road.
Columns
Cory's Column
Home Workout Video Review
Ms. Fitness Was There
Spice of Life
Departments
Subscription
Letter from the Editor
Ms. Fitness Mailbox
Bits n Pieces
Ms. Fitness Contest Dates
Fitfile: Mini Makeover
Great Gear for Those on the Go!
FitFile: Success Stories
Ms. Fitness Pantry
---