---
Ms. Fitness Magazine

For more information, call (541) 830-0400
---
Spring 1997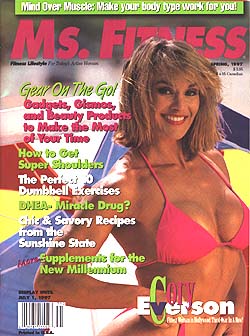 The Spring issue of Ms. Fitness Magazine has a lot of good articles for the fitness minded women. This magazine is the official magazine of Wally Boyko's Ms. Fitness contests. The model on the cover is Cory Everson.
Ms. Fitness Magazine is a magazine for today's active women, with a fitness lifestyle. It provides information and coverage on the Ms. Fitness contests around the globe. It also provides info on nutrition, training, profiles on people, and other articles and pictures on up and coming fitness contestants.


---
Spring 1997 - Table of Contents
---
Features:
Keeping Injury Free: Safety tips for all types.
Supplements for the new Millennium: Part 2: In the dark when it comes to the latest in nutrition aids? Here's help.
How to get super shoulders: A quick way to have a better body by summer.
The perfect 10 Dumbbell exercises: An incredible workout that can be done at home or in the gym - in less time than you'd expect.
Mind over Muscle: Make your body type work for, not against you.
Great Gear for those on the Go! Gadgets, gizmos and the beauty products to make the most of your time.
DHEA - Miracle Drug? The health behind the hype.
Cory Everson: She's done it again: Ms. Fitness readers love Cory Everson. You'll know why when you read what she's up to now.
Spring Cleaning - Smart Haircare: Keep your follicles fit with these professional guidelines.
Pet Pep for People: Nutritional guidance everyone can live by. One women discovers that supplements haven't gone to the dogs.
Shifting Gears: Have you run, stepped, lifted and aerobicized yourself into oblivion? Check out Keiser's incredible new workout - "Power Pacing."
Get back to Fitness basics: Guest columnist Debbie Rocker shares her workout wisdom.
Healing Chamber: Having trouble healing? Do what skin divers do.
Columns:
Cory's Column
The Gym for Skin
Quick Tips with Greg Isaacs
Spice of Life
Departments:
Ask Ms. Fitness
Ms. Fitness Mailbox
Bits n Pieces
Ms. Fitness Pantry
Ms. Fitness Contest Coverage
Reader Success Stories
Did You Know?
---