---
Ms. Fitness Magazine

For more information, call (541) 830-0400
---
Summer 1997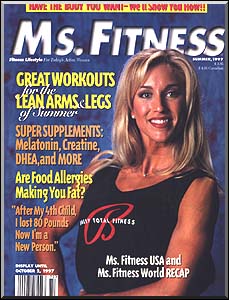 The Summer issue of Ms. Fitness Magazine has a lot of good articles for the fitness minded women. This magazine is the official magazine of Wally Boyko's Ms. Fitness contests. The fitness athlete on the cover is Minna Lessig.
Ms. Fitness Magazine is a magazine for today's active women, with a fitness lifestyle. It provides information and coverage on the Ms. Fitness contests around the globe. It also provides info on nutrition, training, profiles on people, and other articles and pictures on up and coming fitness contestants.


---
Summer 1997 - Table of Contents
---
Features:
Cover Story: Meet Ballys Total Fitness 1997 Ms. Fitness USA and Ms. Fitness World: Minna Lessig and Darby Hart have what it takes to conquer the fitness world!
Supplements for the new Millennium: You've heard about them ... now see what they can do for you.
Backstage at 'Pacific Blue': Meet the athletic stars of TV's newest beachside show.
Tips from the Top: Who says the West Coast has all the inside scoop on fitness? Connecticut's Kelly Zimmerman gives us her favorite training tips.
Are Food Allergies making you fat? When diets and workouts fail, food intolerance may be the real culprit!
Spa Havens: When you need to relax and unwind, retreats can help you get away from it all.
Attaining that Summer look: Give yourself a fitness edge this summer with these great workouts from Lorenzo Gaspar and top Ms. Fitness competitors.
Test your Sun I.Q.: Skin cancer is on the rise. DO you know what it takes to really protect your skin?
The Bugaboo of Body Hair: New laser technology allows you to throw away your razor, avoid the pain of waxing, and say good-bye to stubble forever.
5 a day for Better Health - It's working! Are you eating enough fruits and veggies? Ways to guarantee that your diet is well-rounded.
De-Bunking Heart Disease Myths: What you really need to know about heart disease.
From Stressed out to Super Successful: Find out of a 33 year old woman with little business experience and even less money became the CEO of her own company.
Getting to the Roots of a Vegetarian Diet:
Columns:
Cory's Column
The Gym for Skin
Quick Tips with Greg Isaacs
Spice of Life
Departments:
Subscription Information
Ms. Fitness Mailbox
Bits n Pieces
Ms. Fitness Pantry
Ms. Fitness Contest Coverage
Reader Success Stories
Did You Know?
---