Fall 1997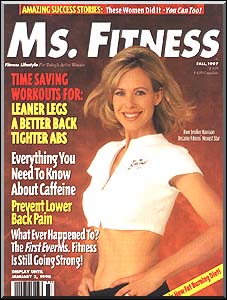 Ms. Fitness Magazine is a magazine for today's active women, with a fitness lifestyle. It provides information and coverage on the Ms. Fitness contests around the globe. It also provides info on nutrition, training, profiles on people, and other articles and pictures on up and coming fitness contestants. This magazine is the official magazine of Wally Boyko's Ms. Fitness contests. The fitness athlete on the cover is Jenilee Harrison.


---
Fall 1997 - Table of Contents
---
Features:
COVER STORY
Keeping pace with actress / spokesperson Jenilee Harrison.
EVERYTHING YOU NEED TO KNOW ABOUT CAFFEINE
This report cuts through the controversy and misconceptions about this common food ingredient. Anything that gives you a jolt, a boost, and zip has to be all bad - or does it?
THE WORKING WOMAN'S TWO PART WORKOUT FOR LEANER LEGS AND GLORIOUS GLUTES
Smooth and shape your quads, hamstrings and glutes. 1996 Ms. Fitness USA shows you how.
HOW TO HAVE A TIP TOP TORSO BY NEW YEAR'S EVE
Sculpt those lats and rear deltoids in time to wear that special party dress.
CRUNCH, KICK AND CROSS YOUR WAY TO TIGHTER ABS
Don't let your belly go to pot. Try these moves for a whittled waistline.
10 TIPS TO CHANGE FOR HEALTH AND FITNESS
These easy steps will make exercise a permanent part of your life.
HIPS AND LOWER BACK:The key to peak performance and longevity. Adrian Cook teaches top athletic pros, now he shows you his super secrets.
UP CLOSE AND PERSONAL WITH DARBY HART
1997 Ms. Fitness World shares her philosophy, workout regime, and nutritional program with us.
GEO JOHNSON: THE FIRST MS. FITNESS DEFIES LOGIC!
Ever wonder who was the first women to win a fitness competition? Interested to what she is doing now? Geo was awesome then and she's amazing now. We check in with the first ever fitness champion.
BOTOX INJECTIONS
A safe and effective weapon against crow's feet and frown lines.
FITCAMP SCRAPBOOK
Fitcampers tell us in their own words what last summer's camp meant to them.
Columns:
Cory's Column
The Gym for Skin
Spice of Life
Departments:
Subscription Information
Ms. Fitness Mailbox
Bits n Pieces
Did You Know?
Ms. Fitness Pantry
Reader Success Stories
What's New?
Ms. Fitness Contest Coverage