Winter 1997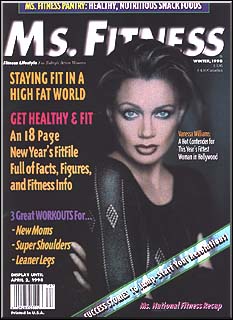 Ms. Fitness Magazine is a magazine for today's active women, with a fitness lifestyle. It provides information and coverage on the Ms. Fitness contests around the globe. It also provides info on nutrition, training, profiles on people, and other articles and pictures on up and coming fitness contestants. This magazine is the official magazine of Wally Boyko's Ms. Fitness contests. On the cover is Vanessa Williams, a hot contender for this year's fittest woman in Hollywood.
---
Winter 1997 - Table of Contents
---
COVER STORY
Vanessa Williams - a hot contender for this year's Fitness Woman in Hollywood Contest!
MS. FITNESS WINTER FITFILE
A NEW WAVE OF WOMEN'S HEALTH CARE
New developments in the areas of prenatal diagnosis reproductive endocrinology and gynecological oncology.
EAST MEETS WEST
Is something lacking in your workout? Maybe it's time to explore the principles of Eastern cultures.
NEW DEVELOPMENTS IN AESTHETIC DENTISTRY
Brighten up your smile with laser tooth whitening and cosmetic dentistry.
KNEES: NO PAIN, BIG GAIN!
Achilles heel of millions - now there's a solution.
STAYING FIT IN A HIGH-FAT WORLD
Explore the benefits of Chitosan, a revolutionary new fat blocker.
MS. FITNESS HEALTHY FACT FILE
Updates on free weight exercise, the breast cancer gene, interpersonal violence, frustrating patients, and a report from the American Heart Association Journal.
NEW YEAR'S LEG SHAPING ROUTINE
A Ms. Fitness workout that helps you sculpt and reshape your thighs.
MS. FITNESS FOCUS: SHOULDERS
If you have time for one quick set, then try this!
TRENDWATCH: POWERBOARD
They're bouncy! They're fun! And they work! Powerboard may just be fitness' next big thing.
IS THERE LIFE AFTER PHEN-FEN?
They're healthy, natural supplements which aid in fat loss and appetite suppression but without the risk.

Columns


Cory's Column
Spice of Life

Departments


Subscription Information
Ms. Fitness Mailbox
Bits n Pieces
Did You Know?
Ms. Fitness Pantry
Reader Success Stories
What's New?
Ms. Fitness Contest Coverage