---
Muscle & Fitness Magazine

For more information, call (800) 521-0303
---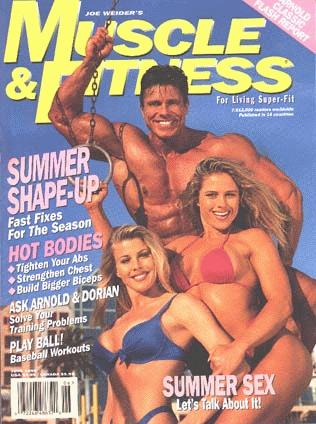 June 1996 Muscle & Fitness issue features articles on how to shape up for summer, results and photos from the Arnold Classic and Ms. International, and Don Long's way to biceps. Alos congratulations on Bill Geiger becoming co-editor. Way to go!
---
Muscle & Fitness is considered to be the best of the non-hardcore bodybuilding magazines. It contains lots of information about the principles of fitness & bodybuilding. Each monthly magazine usually contains information about weight training, nutrition, training, bodybuilding and many other topics that are current in the bodybuilding and fitness world. Muscle & Fitness is more of a mainstream bodybuilding magazine, which has excellent articles and pictures.


---
June 1996 issue Table of Contents
---
Cover Stories:
Big Boys Don't Have Abs - Who Says? Lou Ferrigno, one of the sport's tribal elders, shows how to build a tight, fat-free midsection.
Arnold Class & Ms. International Flash Report: Kevine Levrone and Kim Chizevsky win in Columbus.
Let's Talk about Sex, Baby. Communicating with your partner is a must in light  of today's epidemic of AIDS, STD's and  unwanted  pregnant  cries.
Hot Tips for a Hot Body: The top competitors from the Fitness Olympia share workout and nutrition advice.
Hit the Deck Pecs: Monica Brant revives the basic push-up  in  her chest routine.
The Long Way to Big Biceps: Don Long, the '95 NPC Nationals champ, shows there are no shortcuts to massive arms.
Ask Arnold: Help for the Ectomorph: By Arnold Schwarzenegger
Advanced Training with Mr. O: Increasing Intensity with Forced Reps
Training
Pain in the Mass: Everybody gets 'em. But if you're smart, you can lessen your risk of a serious training injury.
Perfect Symmetry: The Master Blaster goes one on one with Francis Benfatto to discover the secrets of a balanced physique.
The Weider Principles: The Split System: Learn why this technique has been called the linchpin of modern bodybuilding training.
Reaching the Peak: It's the difference between lifting weights and bodybuilding - the Peak Contraction Principle
Natural Talent: Bodybuilder Eric Peterman proves that you don't have to get juiced up to make it to the top.
Features
Pump up the Volume: If you've got the rhythm, and headphones, you can amp the intensity of your workout.
That's Entrainment: Are you mentally prepared to train? Discover how rhythmic vibrations can enhance your state of mind
To Hell and Back: Despite a life threatening illness,  Dennis Newman tackles life's challenges.
Fitness in the Fast Lane: even a hot rod like Michael Andretti finds that working out keeps him in the driver's seat.
Lightweights: Humorous photos from the historic collection of David Chapman
Nutrition
A little on the Side: Nutritious and delicious side salads that are easy to make and low in fat
Chewin' the Fat: Mike Quinn's radical strategy of eating fat to get cut
Cutting Edge
Sports Medicine: Choosing a Sports Medicine Physician
Vitamin Corner: Glucosamine - Panacea for Joint Pain?
Getting Ready for Summer
Roughing It: Muscle up in the great outdoors! M&F's workout will firm, build and shape your body while you're having fun in the sun.
Play Ball! Preseason conditioning can help amateur and pro baseball and softball players alike run faster, hit harder and throw farther.
Departments
Contributors
Editorial: Quest for a Nation's Fitness
Perspective: A Time for Rebirth
Feedback
Success Stories: Cinderella in the Flesh...
Hotline
Sports Fitness Hotline
Kinesiology: Toe Raises
Mind in Bodybuilding: What Makes Us Happy?
Body by Betty: Top Weight Gainers
The Marketplace
Coming Next Month
---