---
Muscle & Fitness Magazine

For more information, call (800) 521-0303
---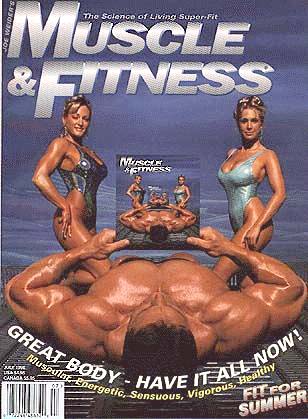 Interesting articles encompass the July issue of Muscle & Fitness, including how diuretics pushed Paul Dillett almost to death, and 10 tips for a great workout, every time. Also, pictures of the 1996 Arnold Classic Weekend, 1996 Olympic stuff, including how athletes train, and how Chef Louis Ferretti prepares high performance foods. Also, an excellent interview with Flex Wheeler.
Muscle & Fitness is considered to be the best of the non-hardcore bodybuilding magazines. It contains lots of information about the principles of fitness & bodybuilding. Each monthly magazine usually contains information about weight training, nutrition, training, bodybuilding and many other topics that are current in the bodybuilding and fitness world. Muscle & Fitness is more of a mainstream bodybuilding magazine, which has excellent articles and pictures.


---
July 1996 issue Table of Contents
---
Training
The Terminator's Thighs: For killer legs, Arnold says shock your muscles to keep them growing
The Last Rep: Must you train to failure to grow?
Beat the Heat: Hot advice to make summer training safer and more productive
10 Tips for a great Workout - Every Time! The essentials for getting results!
Bodybuilding 101: All about Superset Training: Advanced bodybuilders combine back to back exercises all the time to deliver a more forceful pump. Here's how to do it right!
Targeting Problem Areas: Vastus Medialis: M&F asks four pros how to develop a particular problem area - the teardrop!
Dearth, Wind & Fire: How one of the little guys on the IFBB circuit builds a big chest?
Features
Eraser: A sneak preview of Arnold's summer blockbuster!
Flex Wheeler: One of the sport's most controversial bodybuilders sets the record straight
Diuretics Pushed me Over the Edge": Steroids aren't the only dangerous drug. IFBB pro Paul Dillett recounts his use of diuretics and his brush with death.
Saving Face: Advice for men that's more than skin deep.
1996 Olympics: Muscle Goes for the Gold: How six American athletes train for the Summer Games.
Taking Time Off: Do you regularly take a week off from training? You should.
Phallic Phallacies: A seldom discussed solution to a sizable problem.
Beach Muscles: A lighthearted approach to shaping up for summer.
Nutrition
Menu for Muscles: Watching the fat when eating out
Target Stacking: The how to supplement guide for bull's eye gains.
1996 Olympics: Cooking for a Crowd: Chef Louie Ferretti, who prepares high performance international cuisine for the world's best athletes, shares his techniques and recipes.
Cutting Edge
Vitamin Corner: Fiber Mania - A Gut Issue
Back Corner: Elite Athletes & Back Pain
Women
A Penny for your Biceps: Penny Price gives arm training advice that's worth a million.
Miss Universe Chelsi Smith: Even a beauty has to sweat it out sometimes.
Contests
The 1996 Arnold Classic Weekend: Front row seats for men's and women's bodybuilding's second biggest prize.
Bodybuilding Advisory
Ask America's Personal Trainer: Do Something For Yourself: by Tony Little
Larry Scott: Building Lowe Lays
Nutrition Journal: Olestra - Friend or Faux
Ripped: Activate All Fibers
Departments
Contributors
Editorial: Exercise is Everything
Perspective: Bodybuilding's Growing Pains
Feedback
Success Stories: Little Increases Net Big Results
Kinesiology: Two Arm Overhead Cable Curl
Body by Betty: Go for the Glow
---