---
Muscle & Fitness Magazine

For more information, call (800) 521-0303
---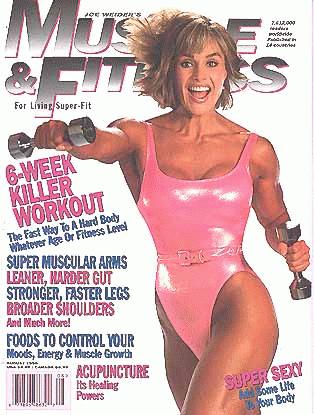 Cory Everson graces the cover of the August issue of Muscle & Fitness, with her 6 week killer workout routines. Also, the 15 best barbell exercises. Other interesting articles include forecasts on the upcoming Olympia weekend, an interview with Andres Munzer, and a pictorial of super sexy bodies in fitness.
Muscle & Fitness is considered to be the best of the non-hardcore bodybuilding magazines. It contains lots of information about the principles of fitness & bodybuilding. Each monthly magazine usually contains information about weight training, nutrition, training, bodybuilding and many other topics that are current in the bodybuilding and fitness world. Muscle & Fitness is more of a mainstream bodybuilding magazine, which has excellent articles and pictures.


---
August 1996 issue Table of Contents
---
Training
Fearsome Forearms: There's nothing up this three time Mr. Australia's sleeves, except powerful forearms.
Cory's Killer Workout. This unconventional six week training program is just the shock therapy your muscles may need.
Pressing Dangers: Many bodybuilders don't do behind neck barbell presses, because they think they're dangerous. Here's how to do them right.
Deeper into the Weider System: Take a look at some of the lesser known principles to discover how they boost your training intensity.
Bodybuilding 101: The 15 Best Barbell Exercises: The ultimate strength and mass builders start with just a barbell.
All systems Go? Training systems that promise muscle growth abound. Applying generally accepted principles, we put them to the test.
Titanic Triceps: Shawn Ray sinks all stereotypes as he guns for his first Mr. O title.
Targeting Problem Areas: Lateral Triceps: Here's how four pros develop this problem area.
Features
On Pins & Needles: One bodybuilder's look into the healing powers of acupuncture.
Successful bodybuilders use these seven keys to discipline their mind to promote results.
Fit to Fall: Hollywood stuntpeople use their muscles for reel.
48 Hours: What does a pro bodybuilder think and feel those last hours before a show? We asked Porter Cottrell during his countdown to the '96 Arnold Classic.
Joe Weider's Olympia Weekend: Can Sonny Schmidt and Lenda Murray defend their crowns in the Masters and Ms. Olympia against a hungry group of rivals come September? Here is how we see it.
Athletes and Aggression: Are athletes more likely to lose control and turn violent, and what role do anabolic steroids play?
The Aging Athlete: Some professional athletes are tops in their sports well into their 30's and 40's. A strong body is the key.
The Day After: Being immobilized by incapacitating pain after a workout is no laughing matter. Or is it?
Super Sexy: M&F uncovers some of the greatest bodies in fitness.
Andreas Munzer: The Last Interview: Just days before he died, one of the sport's greats had something to say. This is what he told us.
Nutrition
Dressed to Grill: Finger licking good. That's how bodybuilders do the barbecue, and keep it low in fat.
Food & Mood: What you can eat can affect both your mind and training.
Natural Detox: Your liver at work.
Cutting Edge
Sports medicines. Save your shoulders
Vitamin Corner: Beta Carotene - A team player
Women
Shoulders Above the Rest: Ericca Kern works hard to stay hungry, and wide.
Bodybuilding Advisory
Ask America's Personal Trainer: Endurance Enhances Power: by Tony Little
Ask Arnold: Is Change Good?
Nutrition Journal: Isn't it Iron-IC
Advanced Training with Mr. O: Partial Reps for Total Intensity
Departments
Contributors
Editorial: Stopping the Clock
Perspective: Imitation ... the best form of flattery
Feedback
Success Stories: Bodybuilding rescued me from grief
Kinesiology: Reverse Wrist Curl
Body by Betty: Air Apparent
---