---
Muscle & Fitness Magazine

For more information, call (800) 521-0303
---
September 1996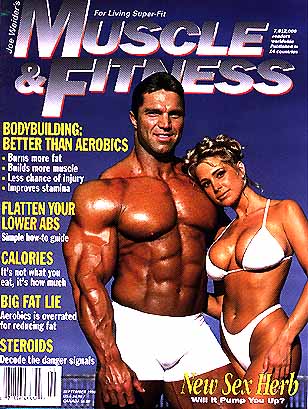 September issue features information on the history of the National Physique Committee, as well as the Weider Olympia weekend and what is store for us. Also, an interview with Mike Matarazzo, and Jean Pierre Fux info on mass training. Other articles include Denise Paglia's high intensity chest training, and M&F's idea of what is considered the ideal female physique.
Muscle & Fitness is considered to be the best of the non-hardcore bodybuilding magazines. It contains lots of information about the principles of fitness & bodybuilding. Each monthly magazine usually contains information about weight training, nutrition, training, bodybuilding and many other topics that are current in the bodybuilding and fitness world. Muscle & Fitness is more of a mainstream bodybuilding magazine, which has excellent articles and pictures.


---
September 1996 Table of Contents
---
Training
War Chest: Gary Strydom's all out per training arsenal.
Bodybuilding 101: The 11 Best Dumbbell Exercises: Back to basics training for growth in the machine age.
The H.I.T. Squad: Why are all these guys promoting high intensity workouts as the best possible system?
Hitting Below the Belt: M&F's guide to lower ab training.
Targeting Problem Areas: Shoulder Caps: Four pros tell us how to develop this particular problem area.
Mr. Big: Swiss Bodybuilder Jean-Pierre Fux talks mass training
Personality
M&F Interview: Mike Matarazzo: Burned out and ice cold, Mike knew what he needed to compete against today's giants: a year off. Now he's back, hotter than ever.
Features
The Big Fat Lie: Is aerobics overrated for reducing bodyfat?
Joe Weider's Olympia Weekend: M&F takes a look at the contenders for this years Mr. Olympia and Fitness Olympia crowns, and presents our picks to take it all.
Gym Nasties: Dumbbells aren't the only thing you might pick up at the gym. Here's how to avoid the germs that may be lurking in your club.
Risking It All: Alcohol. Drugs. Steroids. Why do teens take so many chances?
Thanks, Joe! One of the sport's brightest starts tells how the Master Blaster brought him from a frozen campus in Maryland to a bodybuilding career in Southern California.
Dates from Hell: And you thought the big guys had all the luck with women. Four men of iron share real life date disasters.
The National Physique Committee: Take a peek at who runs amateur bodybuilding in the United States.
Shooting Blanks: You may be infertile and not even know it.
What's New? Bodybuilding product review, including American Body Building's latest supplement line.
Nutrition
Hooked on Seafood: High protein recipes from the ocean depths.
It's Calories That Count: The latest weight loss research says how much you eat is far more important than what you eat.
Some Like It Hot. Spicy foods do more than taste good. Now scientists tell us what's in them fights a number of ailments.
A Natural Wonder: Bulgarians have long used this herb as an aphrodisiac. Now the world is just beginning to learn why. And it can be a real help to bodybuilders.
Women
Impressive Pecs: Denise Paglia shares her high intensity chest training routine.
Evolution of an Ideal: What's considered the ideal female physique? Here's a look at some of the changes in the last 150 years.
Bodybuilding Advisory
Ask America's Personal Trainer: Tony Little: The Only Way to Real Gains
Ask Arnold: Lowdown on Pull Ups
Nutrition Journal: The Spice of Life
Advanced Training with Mr. O: Stay out of the Gym & Grow
Cutting Edge
Sports Medicine: Choosing a Sports Psychologist
Vitamin Corner: Americans still do not know beans
Departments
Contributors
Editorial: Dignity of Muscle
Perspective:
Feedback
Success Stories: Fate works in Strange Ways
Hotline
Kinesiology: Deadlift
Body by Betty: How Fit Do You Want to Be?
The Marketplace
Coming Next Month
Book & Video Reviews: The Best of Shawn Ray / Natural Fitness
The Champ: Dorian Yates
---