---
Muscle & Fitness Magazine

For more information, call (800) 521-0303
---
November 1996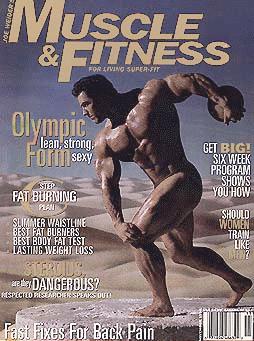 A special section on beating bodyfat is the main part of November's Muscle & Fitness, with the lowdown on thermogenic ingredients, supplements that claim to strip off bodyfat, and much more. Dennis Newman is featured on this month's cover.
Muscle & Fitness is considered to be the best of the non-hardcore bodybuilding magazines. It contains lots of information about the principles of fitness & bodybuilding. Each monthly magazine usually contains information about weight training, nutrition, training, bodybuilding and many other topics that are current in the bodybuilding and fitness world. Muscle & Fitness is more of a mainstream bodybuilding magazine, which has excellent articles and pictures.


---
November 1996 Table of Contents
---
Superfeature
M&F Guide to Beating Bodyfat: Fat Burners: All sorts of supplements claim to strip off that layer of bodyfat, but some are more effective than others.
Turn up the Heat: Fat burning thermogenic ingredients are now being added to a variety of protein powders and bio-engineered foods.
Six Steps to a leaner, muscular body: Tired of all the ups and down on the diet roller roasted? Learn to lower your fat setpoint permanently - and try our detailed program to get you started.
Bodyfat Testing: Measures of lean body mass have come a long way in recent years, but are they more accurate?
Training
Mr. Robinson's Chest: The formula for massive pecs is simple and basic.
Bodybuilding 101: Forgetten exercises for traps & delts: How to for seven movements that will shake up your shoulders and traps routine.
Targeting Problem Areas: Inner Chest: From five pros
Lift Big, Eat Big, Rest Big - Get Big! A no nonsense approach to the one universal bodybuilding goal.
The Blaster Principle: A thorough understanding of these three bodybuilding principles is the first step to knowing how gains in muscular size and strength take place.
Titus: Over the Top: The 1996 USA Champ reflects on his controversial history.
Personality
Nasser El Sonbaty: One of the sport's most popular pros shares a few secrets with M&F.
Features
Matter over Mind: Some bodybuilders claim that exercise affects their mood, self esteem and even their personality, but not all of the experts agree.
Back Breakers: M&F shows you the right way to do popular bodybuilding movements.
Are 'Roids really that dangerous? Steroids are believed to cause physical and psychological problems. Yet little scientific evidence backs up that claim.
At Home with Shawn Ray!
Stressed Out! Try these 25 tips to combat day to day frustration and anxiety.
Lightweights: Historical photos with a light touch.
Nutrition
Ostrich, Anyone? Red meat is going to the birds. Don't bury your head in the sand when it comes to this new low fat, high protein alternative.
The Fiber Factor: Many bodybuilders eliminate high fiber foods to cut up for a contest, but this strategy carries some risks besides constipation.
Women
Should women train like men?
Tri Hard: Karen Hulse, 1996 Night of Champions fitness winner offers a killer routine for firmer triceps.
---