---
Muscle & Fitness Magazine

For more information, call (800) 521-0303
---
December 1996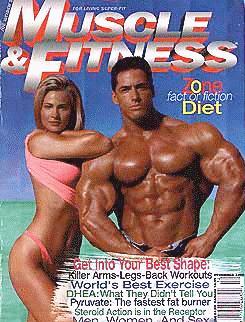 The December issue features an interesting article about the Zone diet, on whether it is fact or fiction. The Zone diet has taken the country by storm, Dr. Sears book being on the best seller list for over 10 weeks in a row. Other interesting items include an interview with Eddie Robinson, 10 uncommon exercises for your back. and what is bodybuilders did not use drugs.
Muscle & Fitness is considered to be the best of the non-hardcore bodybuilding magazines. It contains lots of information about the principles of fitness & bodybuilding. Each monthly magazine usually contains information about weight training, nutrition, training, bodybuilding and many other topics that are current in the bodybuilding and fitness world. Muscle & Fitness is more of a mainstream bodybuilding magazine, which has excellent articles and pictures.


---
December 1996 Table of Contents
---
Contest
Mr. Olympia Weekend Flash Report: Bodybuilding's biggest event of the year crowned four champions in Chicago.
Training
Quads for a new Man: Dennis Newman once wore thermals under his jeans to make his legs appear larger. Here's his training strategy that built up this once lagging bodypart.
For Overpowering Muscle Size: The secret to gaining maximum mass is to vary the big three: volume, intensity and frequency.
Bodybuilding 101: Forgotten Back Exercises that Work! 10 Uncommon moves formulated to widen your horizons - and your lats.
The Weider Mid Range Principle: A strategy to eliminate the weak points in your range of motion makes room for growth.
The World's Best Exercise? Dr. Squat himself provides complete instruction on the mother of all leg builders.
Still totaled awesome! How did one of the greatest bodybuilders of all time train at his peak? M&F takes a look back at Lee Haney's most advanced workout secrets.
Targeting problem areas: Brachioradialis: Five pros tell us how they develop this complicated bodypart.
Personality
Interview with Eddie Robinson: An informal setting for a serious discussion on bodybuilding and the problems that might lie ahead.
Features
Homeopathy: Find out how a little bit of what ails you can help cure what ails you.
Man vs. Woman: In the land of muscle, stereotyped gender differences hit the dust.
What if... Bodybuilders had never used drugs?
How to build mental muscle? Like your body, your mind needs exercise and nutrition to avoid atrophy.
M&F's 8th annual holiday gift guide. The first place to check for gifts for the fitness enthusiast on your list/
Zone or Twilight Zone? This best selling diet may be more fiction that fact.
M&F 1996 Article Index: Looking for a lost article? Here's where you'll find what we've printed from A-Z.
Nutrition
Season's Eatings: M&F shows how to throw a holiday party for your bodybuilding friends that's high in taste but low in fat.
Pyruvate: Here's the scoop on this musch hyped burner.
The Antioxidant War Machine: If high intensity exercise increases free radical production, where does that leave the serious athlete?
Women
Arm Tending: New to the fitness scene, Milamar Flores has already strong armed here way to stardom.
Cutting Edge
Sports Medicine: Choosing a Physical Therapist
Recuperation: Bouncing Back in a Hurry
Departments
Editorial: The art of Holistic Health! by Joe Weider
Perspective: by Tom Deters
Feedback
Success Stories: Muscling in on Sharks
Hotline
Training Notebook: Lying Leg Curl
Kinesiology:
Ask Mr. Olympia
Body by Betty: Girls just wanna have fun
Lab Notes: Steroid Action: Is it in the receptor?
Bodybuilding Science: Fit Fat? Glutamine - Fashion, function or both? The Deal with DHEA. From the Weider Nutrition Group
Ask Arnold: Starting out right
Nutrition Journal: Healthy Holiday Baking
The Marketplace
Coming Next Month
---