---
Muscle & Fitness Magazine

For more information, call (800) 521-0303
---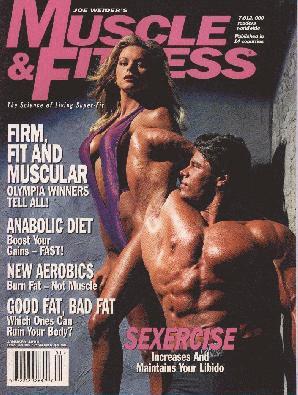 January 1996 Muscle & Fitness issue features a new look in a lot of its pages, and in my opinion, they have done a good job. Also, congratulations to Bill Geiger, promoted to Senior Copy Editor.
---
Muscle & Fitness is considered to be the best of the bodybuilding magazines. It contains lots of information about the principles of fitness & bodybuilding. Each monthly magazine usually contains information about weight training, nutrition, training, bodybuilding and many other topics that are current in the bodybuilding and fitness world. Muscle & Fitness is more of a mainstream bodybuilding magazine, which has excellent articles and pictures.


---
Table of Contents - January 1996 issue
---
Cover Stories:
1995 Joe Weider's Olympia Weekend:
How I Won the Mr. Olympia: By Dorian Yates
How Sonny Schmidt Won the Masters Olympia: By Marty Gallagher
How I Won the Fitness Olympia: By Mia Finnegan
Good Fat, Bad Fat: How to decipher the different fats: By Lawrence Lamb, MD
Sexercise: Exercise can increase the quality and quantity of your sex life.
Why Won't Your Calves Grow?
The Anabolic Diet: How cutting carbs, and eating a high fat diet can add muscle and reduce bodyfat.
M&F Special Aerobics Section:
Aerobics for Bodybuilders
Class Action: Aerobic classes in gyms
Quiz: How much do you know about Aerobics & Fat Burning: By Bill Geiger
Training
Deadlifts: How to do it right.
Bodybuilding 101: Slight variations bring big results
The Eclectic Principle: Variety is the spice of life, and of bodybuilding. By Joe Weider
The Dumbbell Advantage: Why get an expensive home gym?
Features
Arthritis Alert: How to work out safely.
A Good Night's Sleep: How Sleep effects your training, and vice versa
Has Success Passed you by? Steps to make you feel like a champion.
Ageless Muscle: About Bill Pearl, one of bodybuilders pioneers
Bodybuilding Jargon / Muscle Anatomy: Training lingo spelled out, and muscle groups are identified.
Nutrition
Sweet Potatoes: Tasty Recipes
Nutritional Healing: How some food promote healing and health
Women
Dinah-Mite! Inspiration with Dinah Anderson on how to get in shape.
Fitness Olympia 1995: Commentary on the debut of the newest event.
Cutting Edge
Sports Medicine: Growing Knee Cartilage
Vitamin Corner: More good news on L-Carnitine.
Bodybuilding Advisory
Ask America's Personal Trainer: Tony Little
Larry Scott: More than Simply Big
Train with Frank Zane: Ground rules for training partners
Nutritional Journal: Grandma's Cookies
---