---
Muscle & Fitness Magazine

For more information, call (800) 521-0303
---
February 1997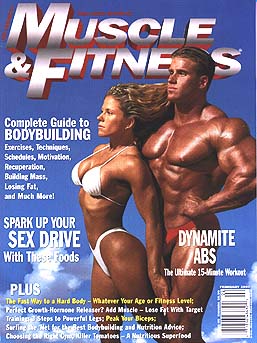 Such an important issue. An excellent article by Ron Avidan entitled 'Muscle Goes Online' about the introduction of Muscle & Fitness' new web site. Ron also takes care of the American Body Building web site, and the Victory web site. Other interesting articles include the Mr. Olympia drug tests, and an excellent answer to the most popular question 'Do the ads in bodybuilding magazine make exaggerated claims.
Muscle & Fitness is considered to be the best of the non-hardcore bodybuilding magazines. It contains lots of information about the principles of fitness & bodybuilding. Each monthly magazine usually contains information about weight training, nutrition, training, bodybuilding and many other topics that are current in the bodybuilding and fitness world. Muscle & Fitness is more of a mainstream bodybuilding magazine, which has excellent articles and pictures.


---
February 1997 Table of Contents
---
Superfeature
M&F's complete guide to beginning bodybuilding: Our most comprehensive beginning guide ever! Here's everything a first timer needs to get started!
Choosing the right gym: What to look for in a club - and how to defend yourself against the wolves - before signing on the dotted line.
Training
Ripple Effect: Flex Wheeler details his back routine that makes waves.
The Rest-Pause Principle: Imagine the growth you can generate from doing a maximum weight rep - for eight reps. Learn how this super intensity technique can work for you.
Targeting Problem Areas: Biceps Peak: Four pros show you how to build sleeve busting arms.
Armed Intensity: Nothing fancy here: Mike Francois' no-nonsense recipe for building massive biceps and triceps.
Hitting above the Belt! Develop a knockout midsection with this guide to upper ad training.
Features
Muscle Goes Online: It's time to surf the superfitness highway for the best advice on bodybuilding and nutrition. By Ron Avidan.
Lee Priest: Architecture of the human body.
Lactic Acid: Often labeled a 'waste product', thus glucose by-product is greatly misunderstood. Here we clear up the confusion.
The Mental Edge: How do you spend your time between sets? Many of the top strength athletes in the world use this visualization technique, and you can too.
Mr. Olympia Drug Test Results: Only one bodybuilder of 48 failed the mandatory drug test at the Olympia Weekend last September. The competitors know the IFBB means business as they get ready for the Arnold Classic.
Can Food enhance your sex drive? Starved for love? Beef up your sexual fitness with key nutrient.
Fact or Fiction? The truth about six common bodybuilding myths.
Lightweights: From the collection of David Chapman.
Nutrition
Killer Tomatoes: You can't get enough of this super nutrition food.
Overeating to get big! Athletes who 'power eat' are flocking to health food stores for enzymes that purportedly speed digestion and improve absorption. Do they really work as advertised?
When the truth hurts. Bodybuilding champs use supplements, but do the ads in muscle mags make exaggerated claims? Here is the real story.
Women
Legs from Paradise. How Hawaii native and Fitness Olympia finalist Dale Tomita creates beautiful curves.
Cutting Edge
Sports Medicine: Do your eyes have it?
Departments
Editorial: Attainable Appeal by Joe Weider
Perspective: No Fear by Tom Deters
Feedback
Success Stories: A new outlook on life
Hotline
Training Notebook: Cable Crunch
Training Notebook: Kinesiology:
Training Notebook: Ask Mr. Olympia
Mind in Bodybuilding: You have to be Obsessed
Body by Betty: Reality Check
Lab Notes: Do pain medications hurt muscle growth?
Bodybuilding Science: Put yourself on the spot... growth hormone releasers... shouldering chest work.
Ask Arnold: No single exercise is best
Nutrition Journal: Eat your veggies, men!
Junior Gym: Pumping mini iron
Muscle Fare: Soups On!
Book Review: Ray Stern's Fit & Sexy after Fifty
The Marketplace
Coming Next Month
---