---
Muscle & Fitness Magazine

For more information, call (800) 521-0303
---
March 1997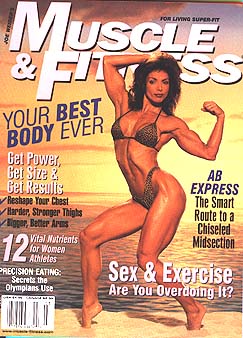 Policeman Ron Coleman is the featured person who is interviewed in the March issue of Muscle & Fitness. Other interesting articles include Mia Finnegan's midsection expression routine, and Gunter Schlierkamps chest routine.
Muscle & Fitness is considered to be the best of the non-hardcore bodybuilding magazines. It contains lots of information about the principles of fitness & bodybuilding. Each monthly magazine usually contains information about weight training, nutrition, training, bodybuilding and many other topics that are current in the bodybuilding and fitness world. Muscle & Fitness is more of a mainstream bodybuilding magazine, which has excellent articles and pictures.


---
March 1997 Table of Contents
---
Training:
Gunter Presses On: Gunter Schlierkamp is the latest in a line of German giants to hit the pro bodybuilding scene. M&F talks with this modern day Hercules to find out how he built his 56 inch chest.
Want Big Legs? Here's the inside scoop on building bigger, more powerful thighs through abductor training.
Bodybuilding 101: Forgotten Exercises for Triceps: There;s more to big arms than building biceps. Try these seven exercises to burn your tri's.
Make a Splash: Improve your swim strokes with this dry land weight training program, along with advice from four time Olympic gold medalist Amy Van Dyken.
The Weider Principles: Pre Exhaustion: Who;d ever think of doing an isolation exercise immediately before a compound movement? We would. Here's how to do it for best results.
The Squat: Get it Right: Essential tips from top to bottom on this massive quad builder.
Johnny, Be Good: Not all the champs are in and out of the gym in 60 minutes. Johnny Stewart, America's top ranked natural bodybuilder, shares the winning combination that propelled him to the NPC Team Universe title.
Four Wheel Drive: Hard heavy training with lots of sets and reps fuels Jeff Poulin's high octane quad routine.
Personality:
M&F Interview: Ron Coleman Texan Ronnie Coleman shows that the long arm of the law is as big as it is ripped.
Features:
Growing Pains: Aches and strains are part of any bodybuilder's life. Here's a variety of ways to minimize the soreness.
Dealing with Diabetes: How training and the bodybuilding lifestyle can help combat this disease.
Too Tired to Tango? Overexercise can backfire and actually hurt your sex drive. Here's how to balance your training life and love life.
The Best Arnold Classic Ever: Bodybuilding's second largest purse is up for grabs at this annual mega fitness weekend.
Muscle Memoirs: Before high tech machines, advanced nutritional supplements, bodybuilders are and trained more simply. Former Mr. America Armand Tanny takes a look back.
No Brain... No Gain Can these notropic 'Smart pills" enhance your mental muscle?
Nutrition:
Gotta Have It: What female bodybuilders should be eating... nutrient by nutrient... to fuel their workouts and get the results they want.
The Alpha Nutrient: Alpha-lipoic acid may just be the muscle energizer that amps your workouts.
Precision Nutrition: Eating to grow... while avoiding a catabolic reaction... requires more than just eating lots of protein and 5-6 meals a day.
Leading the Way: Everything you wanted to know about the world's largest sports supplement manufacturer.
Women:
Midsection Express:Top fitness competitor Mia Finnegan shares her 15 minute routine for developing standout abs.
Cutting Edge:
Sports Medicine: Shouldering the Pain
Vitamin Corner: Octacosanol - Energy in a pill
Departments:
Editorial: I Predict by Joe Weider
Perspective: by Tom Deters
Feedback
Success Stories: A new set of rules
Hotline
Training Notebook: Front Lat Pull Down
Training Notebook: Kinesiology:
Training Notebook: Advanced Training with Mr. Olympia
Mind in Bodybuilding: Let There Be Light
Body by Betty: Hostile Takeover
Lab Notes: Carnitine & DOMS - is there a link?
Bodybuilding Science: Herb revives body & soul ... Zinc Testosterone Connection ... Glycogen sparing effect ... double duty bodybuilding Berry
Ask Arnold: No need to delay
Nutrition Journal: Hydration How-To
Junior Gym: Achievement by Proxy
The Marketplace
Coming Next Month
---