---
Muscle & Fitness Magazine

For more information, call (800) 521-0303
---
April 1997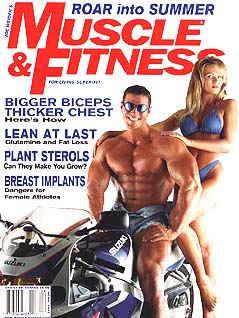 Muscle & Fitness is considered to be the best of the non-hardcore bodybuilding magazines. It contains lots of information about the principles of fitness & bodybuilding. Each monthly magazine usually contains information about weight training, nutrition, training, bodybuilding and many other topics that are current in the bodybuilding and fitness world. Muscle & Fitness is more of a mainstream bodybuilding magazine, which has excellent articles and pictures.


---
April 1997 Table of Contents
---
Training:
Code of Arms: Top amateur bodybuilder Tom Prince abides by the hard and heavy regime to build his royal peaks.
Bodybuilding 101: Forgotten Exercises for Chest: If you're tired of the doing the same ol' presses and flyes every workout, we have five favorites that'll work your pecs from some new angles.
Take a Stand: Performing one exercises either seated or standing may appear to have similar benefits, but subtle differences can actually make one far more dangerous. M&F tells you how to do them right.
The Weider Principles: Forced Reps: Perhaps the most widely used advanced training techniques, forced reps allow you to do the seemingly impossible - work a muscle beyond the point of failure.
Going Solo: You do biceps dumbbell curls and lateral raises one arm at a time, so why not other movements? Try our guide to unilateral training and the exercises to get your growing.
Stalling Tactics: Georgia's Willie Stalling earned his pro card with a win at the NPC Nationals in Dallas. Here he shares his championship leg training.
Features:
Who you gonna call? When life's aches and pains become too much to bear, you need a doctor - but which kind? M&F tells you what to look for.
Battle of the Sexes: Men and women may be equal, but each gender has particular advantages when it comes to fat-burning and protein sparing potential.
Tune into your Rhythms: How to synchronize your inner clock for better training performance.
Get Back In Action: Slight discomfort can sometimes turn into chronic, low-back injury and pain. Learn how to effectively handle and even prevent such injuries.
Get Motivated! Attitude - it's what separates winners from wanna-bes. Making a simple change can pay dividends in your workout.
Net Gains: Strengthen your serve and spike with this weight training program designed for volleyball players.
Male Fertility: What may look and feel good - tight workout wear and the postworkout Jacuzzi - may adversely affect your parental plans.
Muscle & Fitness has the strongest writers in the World: One world champion authors have the in the trenches experience to show you what really works!
Feel and Look Young Again: Life's fountain of youth isn't a potion but rather a lifestyle that includes controlling your weight, staying active and toning your muscles.
Nutrition:
Soy Protein Packs a Punch: It isn't quite magic, but Jack may want to check out the muscular benefits of the soybean.
Fast Breaks: A good breakfast is critical when you've gone 8-10 hours without a meal. If you're in a hurry, try one of these one-minute menus.
Power Plant: Can the substances that induce plant growth also work in human muscles?
Women:
Top Performance: Focusing on incline movements, six time Ms. Olympia Lenda Murray has turned what she once called a weak bodypart into one of the best chests in the sport.
Breast Wishes: Find out why so many women risk surgery for vanity. Plus, the latest on breast-implant surgery, costs and complications.
Cutting Edge:
Sports Medicine: I was a Teenage Science Project!
Recuperation: Self Treatment for Athletes
Departments:
Editorial: Independence vs. Atrophy by Joe Weider
Perspective: Viewpoints by Tom Deters
Feedback
Success Stories: I see no limits
Hotline
Training Notebook: Seated Dumbbell Curve
Training Notebook: Kinesiology:
Training Notebook: Advanced Training with Mr. Olympia
Mind in Bodybuilding: Let There Be Light
Body by Betty: Armed Resistance
Lab Notes: L-Glutamine: A weight loss aid
Bodybuilding Science: Amino Acids alone are Anabolic ... Inosine - Ergolytic or Ergogenic? ... L-Glutamine reduces infections in athletes ... Caffeine increase work capacity.
Ask Arnold: Mental Drive & Determination
Nutrition Journal: Macho Meals
Training with Zane: Stay Hungry Longer
Muscle Fare: Pizza with Pizzazz!
The Marketplace
Coming Next Month
---