---
Muscle & Fitness Magazine

For more information, call (800) 521-0303
---
May 1997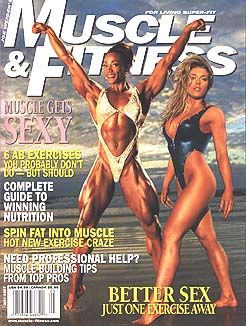 Muscle & Fitness is considered to be the best of the non-hardcore bodybuilding magazines. It contains lots of information about the principles of fitness & bodybuilding. Each monthly magazine usually contains information about weight training, nutrition, training, bodybuilding and many other topics that are current in the bodybuilding and fitness world. Muscle & Fitness is more of a mainstream bodybuilding magazine, which has excellent articles and pictures.


---
May 1997 Table of Contents
---
Training:
Tri Tips: Beefy Jay Cutler's no bull approach to triceps training.
Bodybuilding 101: Forgotten Exercises for Abs: There's more to ab training than simple crunches. These six not so common variations can define that six pack
Fancy Footwork: Should you point your toes in to hit the outer thigh? M&F sorts through the hype - and the research - on how adjustments in foot position and stance can affect your leg training.
The Weider Principles: Pyramiding: The best way to incorporate warming up a muscle and still working heavy is with the power of the pyramid.
Spin Cycle: A faster way for bodybuilders to lose bodyfat? Jump on a bike for a high intensity workout. We'll tell you why studio cycling is the hottest cardio training class in the country today.
Power Ranges: Not only do you want to be in the right mental zone when you train, but your body makes the greatest improvements in size and strength when you're in a particular training zone.
Targeting Problem Areas: Lower Chest: Four top pros give their advice on how to build the hard to develop region of the lower pec.
The Tall Guy: If you tower over your training partner, you know how difficult it is to put on mass! M&F has assembled training and nutrition advice from ectomorphs turned bodybuilders to speed your muscle building efforts.
Delta Ray: Two time Mr. Olympia runner up Shawn Ray offers his nuts and bolts shoulder routine that yields cosmic results.
Features:
Magnets & Recuperation: Tired of traditional approaches to pain relief? Using specially designed magnets to speed healing is attracting a greater number of adherents.
Steroid Ticker Terror: The one muscle androgenic steroids may most harm is your heart. Should that be of concern to young bodybuilders?
Muscle Phys 101: Time to drop that dumbbell and listen up: Professor Musclehead's giving you the ABCs of skeletal-muscle physiology. Press that!
Outgrowing your Blue Genes: A number of studies indicate that exercise can help beat depression, but what happens when that isn't enough? M&F takes a closer look.
Working' for Love: An exercise you can do anywhere, any time, can make a happier relationship.
Muscle... or Fitness: More and more women continue to take up the iron sport, but the future of women;s competitive bodybuilding is as uncertain as ever.
Family Matters: The bodybuilding lifestyle can help you combat illness - even those that lurk in your genes. Learn how to do your own genetic sleuthing.
No Brain - No Gain, Part 2: Improving your mental muscle means more than just hitting the books. These exercises and games are proven ways to boost your brain power.
Nutrition:
Give Fat A Break: Fat's the enemy of all bodybuilders, right? Not so fast! Some researchers believe many athletes don't get enough fat in their diets, affecting their health and training.
Your Guide to winning Nutrition: Marilyn S. Peterson, MS, RD, author of 'Eat to Complete', debunks nutritional myths and explains how bodybuilders can achieve peak performance.
Acetyl L-Carnitine: Can this dietary supplement really speed the fat burning process?
Women / Personality:
Stun Guns: Fitness competitor Michelle Bellini's high voltage biceps training.
Raw Beef: What's big Paul Dillett really like? In an unusual interview format, guest editor Mike Matarazzo asked the questions, and chose and captioned the photo's. Heck, who needs paid editors?
Cutting Edge:
Sports Medicine: Effects of Age & Stress on Immunity
Vitamin Corner: Boosting Creatine Concentration
Departments:
Editorial: Shape up without giving up by Joe Weider
Perspective: by Tom Deters
Feedback
Success Stories: The Nurses called me 'Super Mom'
Hotline
Training Notebook: Overhead Lateral Raise
Training Notebook: Kinesiology:
Training Notebook: Advanced Training with Mr. Olympia
Mind in Bodybuilding: Controlling negative self-talk
Body by Betty: Baby Yourself
Lab Notes: HMB: Help or Hype?
Bodybuilding Science: Androgens & personality, Vanadyl Sulfate & Muscle Mass, Bodybuilders & Blood Lipids, Nicotine as an ergogenic aid?
Ask Arnold: Use Food to Fuel Growth
Nutrition Journal: Slick Eggs, Allergic Beans and more...
Training with Zane: Looking forward to workouts
Muscle Fare: For the love of cheesecake
The Marketplace
Coming Next Month
---