---
Muscle & Fitness Magazine

For more information, call (800) 521-0303
---
June 1997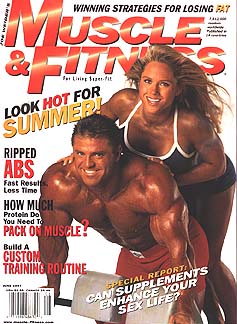 Muscle & Fitness is considered to be the best of the non-hardcore bodybuilding magazines. It contains lots of information about the principles of fitness & bodybuilding. Each monthly magazine usually contains information about weight training, nutrition, training, bodybuilding and many other topics that are current in the bodybuilding and fitness world. Muscle & Fitness is more of a mainstream bodybuilding magazine, which has excellent articles and pictures.


---
June 1997 Table of Contents
---
Superfeature: The Best of Summer:
Made for the Shade: Being sun safe doesn't have to spoil your summer fun.
Shades of Summer: Take a look at what these sunglasses have to offer
Laser Razor: Zap that fuzz away with the latest in hair removal.
Tips for the Trip: Some ideas to help make your summer travel smooth sailing.
Sweat Factor: Don't let the heat and humidity of summer interfere with your worksouts. M&F takes a closer look at how excessive water loss can hinder your performance and suggests ways to guard yourself against dehydration.
Summer Splashdown: Get wet and wild with our workout routines and tips for water skiing, windsurfing and jet skiing.
Training:
Backdraft: Full time firefigher and professional bodybuilding Porter Cottrell lights a fire under his back training.
The Weider Principles: Tri Sets: Find out why big Lou Ferrigno thinks this technique is one of the best ways to shock stagnant muscles into growth.
Bull Neck: Bodybuilders and other athletes need powerful necks, but few do exercises that target these small significant muscles. We'll show you how.
Trap Ease: The greatest shrug exercises on earth for building bigger traps.
Custom Built: So manny training splits, so little time. Dr. Squat explains how to create one to satisfy your specific muscle building needs.
Get it Right: Beach Press: Learn proper execution and technique to achieve the results you want.
Ab Session: Charles Clairmonte says a program of fewer reps and sessions is the way to get a ripped midsection.
Features:
Think Lean: The initial steps in a weight loss program begins in your head.
Muscle Cramps: Don't let sharp pains tie you in knots - follow these steps to reduce the likelihood of cramps and learn what to do if one occurs.
Shouldering the Pain: Rotator cuff injuries and recurring shoulder pain can seriously slow your training progress. Find out how bodybuilding can help strengthen your shoulders.
Supplemental Sex: In the quest for muscle, many bodybuilders ingest compounds that could affect their sex lives. M&F examines the side effects some supplements may have.
Nasy Habits: Breaking bad tendencies that hinder your training.
Nutrition:
Winning Strategies for Losing Fat: Ready to shed that winter coat? Check out how cycling your caloric intake and consuming certain foods will allow you to manipulate your metaabolic rate.
Pregnenolone: Does this hormone offer a safer and more effective way to achieve the benefits of DHEA?
Too much of a Good Thing? You probably worry about getting a minimum amount of protein in your diet, but some sports nutritionists warn about getting too much. Here's what you need to know.
Cheating Foods: Sticking to your clean, green bodybuilding diet might leave you lean and mean - and in the mood to binge. Learn how to indulge safely.
Women / Personality:
Great Scott: The first Mr. Olympia, Larry Scott, speaks out about love, faith and personal tragedy.
Armed & Beautiful: Sharon Bruneau, one of the most popular women in bodybuilding history, explains how to build strong, shapely arms.
Cutting Edge:
Sports Medicine: Should you get your joints recapped now?
Departments:
Editorial: The best alternative therapy by Joe Weider
Perspective: by Tom Deters
Feedback
Success Stories: Turning tragedy into victory.
Hotline
Training Notebook: Leg Extension
Training Notebook: Kinesiology:
Training Notebook: Advanced Training with Mr. Olympia
Mind in Bodybuilding: Taking Responsibility
Body by Betty: Munchie Madness
Lab Notes: Leptin - Miracle Cure for fat?
Bodybuilding Science: Will eating more fat increase testosterone? - Exercise stimulates ANF to reduce heart disease - Military melatonin - Aspartame safety revisited - The Methanol Connection
Ask Arnold: Training Heavy to Build Mass
Nutrition Journal: Menu Makeover
Muscle Fare: Salad days are here again
The Marketplace
Coming Next Month
---