---
Muscle & Fitness Magazine

For more information, call (800) 521-0303
---
July 1997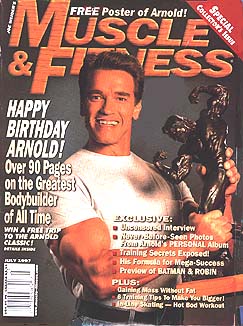 The July issue of Muscle & Fitness magazine is completely centered around Arnold Schwarzenegger, with over 90 pages of pictures and articles devoted to him. He is considered one of the greatest bodybuilders of all time, or at least the one who put bodybuilding in the national spotlight. Arnold turns 50 on July 30th! Everything you wanted to know about Arnold is in here!
Muscle & Fitness is considered to be the best of the non-hardcore bodybuilding magazines. It contains lots of information about the principles of fitness & bodybuilding. Each monthly magazine usually contains information about weight training, nutrition, training, bodybuilding and many other topics that are current in the bodybuilding and fitness world. Muscle & Fitness is more of a mainstream bodybuilding magazine, which has excellent articles and pictures.


---
July 1997 Table of Contents
---
Special Collector's Issue:
Anatomy of an American Icon: In this M&F exclusive interview, Arnold reflects on his triumphs and challenges, plus what he sees in store for his future and the sport of bodybuilding.
Arnold's Road to Greatness: The Austrian Oak has come a long way since his first contest, when he copied a competitor's precontest regimen of drinking shots of whiskey - and then got sick! M&F chronicles the highs and lows of Arnold's life.
Arnold's Crowning Achievement:
Arnold & Joe: The inside story of how the best promoter in bodybuilding met the most marketable bodybuilder, and how their friendship endures.
Arnold & Franco: One of Arnold's chief rivals and best friends - Franco Columbu - reminisces on the interconnected paths that pushed each man toward greatness.
Arnold Talks Training: M&F takes you back to train with Arnold, bodypart by bodypart, as he built the greatest physique in bodybuilding.
Best Action Hero: Why Arnold is still king of the action-adventure hill.
The Iceman Cometh: Sneak a peek at Arnold's new role as Gotham City's villainous Mr. Freeze.
We've Got Him Covered: Check out the man whose face and physique have graced Weider magazine covers for nearly three decades.
Written in the Stars: Was this ambitious Leo destined for success?
Contest:
The 1997 Arnold Fitness Weekend: Flex Wheeler wins big at the Arnold Classic, while Yolanda Hughes takes home her first pro win as Ms. International and Carol Semple-Marzetta flips over her third title in the Fitness International.
Training:
Critical Mass: Five time Mr. Olympia Dorian Yates shares the best mass-builders for constructing a solid foundation.
Get In-Line: This fun, fast paced, butt blasting workout will maximize your fat burning capacity and put the brakes on boring cardio training.
Bodybuilding 101: Forgotten Exercises for Calves & Hamstrings: Has your leg training become routine? Try these effective movements for calves and hamstrings.
Get in Right: Lunge & Grow: Learn proper execution and technique for maximal leg development, strength and power.
Nutrition:
Prescriptive Eating for Fat-Free Mass: Exercise is only half the equation to getting massive. Here's a nutritional strategy that will pack on lean muscle mass without the fat.
Wheying In: Lots of supplement companies now tout products with whey, but is it really a better protein than milk isolates?
Women:
Kim's Super 6: Ms. Olympia Kim Chizevsky details her favorite exercises and shares her high intensity training secrets.
Cutting Edge:
Sports Medicine: Keep Your Head Up
Departments:
Editorial: 50 Years of Bodybuilding Potential by Joe Weider
Perspective: Labor of Love: by Tom Deters
Feedback
Success Stories: Don't tell me you don't have time
Hotline
Mind in Bodybuilding: Arnold's psychology of winning
Body by Betty: Arnold - the making of a superstar.
Training Notebook: 45 Degree French Press
Training Notebook: Kinesiology:
Training Notebook: Advanced Training with Mr. Olympia
Lab Notes: Can Diet Spot Reduce Bodyfat?
Train with Zane: Training with Arnold.
Larry Scott: The day Arnold bowed in prayer.
Nutrition Journal: Arnold vs. the White Death
Bodybuilding Science: When you should feed your muscle? ... Albuterol - Cousin to Clenbuterol
The Marketplace
Coming Next Month
---