---
Muscle & Fitness Magazine

For more information, call (800) 521-0303
---
August 1997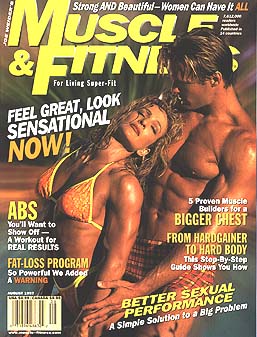 Muscle & Fitness is considered to be the best of the non-hardcore bodybuilding magazines. It contains lots of information about the principles of fitness & bodybuilding. Each monthly magazine usually contains information about weight training, nutrition, training, bodybuilding and many other topics that are current in the bodybuilding and fitness world. Muscle & Fitness is more of a mainstream bodybuilding magazine, which has excellent articles and pictures.


---
August 1997 Table of Contents
---
Training:
Spectacular Chest Training: Down under wonder Lee Priest packs on the poundage to build his freaky pecs.
The Weider Principles: Partial Reps: Full range movements may not be enough to spark maximal muscle growth.
Bodybuilding 101: Forgetten Exercises for Quads: If your leg routine consists of squats, leg presses and leg extensions, try these six very effective alternatives to break up the pace.
Targeting Problem Areas: Lower Abs: Four top pro bodybuilders tell how they bring up the below the belt region.
Escape from Hardgainer Hell: Slow to grow? Traing smarter - not necessarily harder - with this three stage program.
Get it Right: Standing Dumbbell Press: The proper execution and technique for bolder shoulders.
Long On Triceps: 1995 NPC Nationals Champ Don Long's take no prisoners training routine for maximum arm growth.
Features:
Change your outlook: After years of high intensity training or competition, all athletes must eventually consider pulling back. Find out how to downshift from high gear and stay in great shape.
Flex Appeal: Our muscular pictorial features 1997 Arnold Classic Winner Flex Wheeler.
Athletes on a Roll: Wheelchair warriors: Inspiring stories of athletic and bodybuilding achievements from the physically disabled.
Heart Attack at 20-something? Why cardiac problems strike some elite level athletes, and how you can determine if you're at risk.
Timing is Everything: Don't let premature ejaculation ruin your relationship. Learn how to hold back for better sex.
Why are you so tired? Fatigue, the malady of the 20th century, can rob you of your training momentum. Try these basics for boosting your energy.
Hormone Boosting Workouts: Learn about the hormones responsible for muscle growth and how to manipulate the variables - diet, exercise and ret - to control their release.
Nutrition:
Building a Better Protein: M&F takes a closer look at the latest protein supplement that's efficiently utilized by the human body.
The Extreme Diet: For Emergency Use Only: More and more bodybuilders are abandoning the high carb approach to shed those last few pounds and develop that hard, ripped body.
Hardgainer's Nutrition Advice: Hardgainers may be making mistakes outside the gym, too. Professor Musclehead answers the most common quieries on eercise and nutrition.
Arginine's new growth potential: Bodybuilders are taking another look at this amino acid, which is touted as enhancing mmuscle development and bodyfat loss.
Personality:
Raw Beef: Guest editor Eddie Robinson goes head to head with one of bodybuilding's most outspoken pros, Shawn Ray. Find out what went on in this no holds barred interview.
Women:
Designing Delts: A long way from Thunder Bay, Melissa Coates ignited her delts with lightning speed.
The Fight of my Life: Faced with breast cancer, this 35 year old bodybuilder applied the training principles of focus, effort and concentration in her battle for her health.
Hot Bodies: Theresa Hessler
Cutting Edge:
Sports Medicine: Locking Out: The Elbow Controversy
Departments:
Editorial: Muscle for Life by Joe Weider
Perspective: by Tom Deters
Feedback
Success Stories: Free Fall Jump into jeopardy
Hotline
One Minute Lesson: The Shrug
Mind in Bodybuilding: Building self-confidence, part 1
Body by Betty: Muscle Music
Training Notebook: Decline Press
Training Notebook: Kinesiology:
Training Notebook: Advanced Training with Mr. Olympia
Lab Notes: The Ups & Downs of Yo-Yo Dieting
Bodybuilding Science: Garlic & Fish oil keep cholesterol in line ... testosterone levels & dietary nutrients - preliminary evidence on pikamilone
Ask Arnold: The Shortcut to Muscular Growth
Nutrition Journal: Promises, promises
Muscle Fare: Pasta Perfection!
The Marketplace
Coming Next Month
---