---
Muscle & Fitness Magazine

For more information, call (800) 521-0303
---
September 1997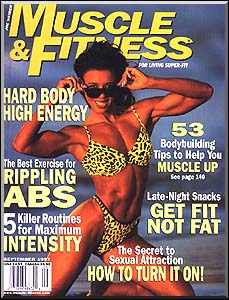 Muscle & Fitness is considered to be the best of the non-hardcore bodybuilding magazines. It contains lots of information about the principles of fitness & bodybuilding. Each monthly magazine usually contains information about weight training, nutrition, training, bodybuilding and many other topics that are current in the bodybuilding and fitness world. Muscle & Fitness is more of a mainstream bodybuilding magazine, which has excellent articles and pictures. The fitness competitor on the cover is Saryn Muldrow, photographed by Robert Reiff.


---
September 1997 Table of Contents
---
Contest:
Night of Champions: New challengers and longtime favorites match muscles in New York City.
Training:
Just do Delts: Basic heavy exercises form the foundation of Kevin Levrone's shoulder loading routine.
To Peak or not to Peak: Can you tailor the shape of your muscles? The use of angles, grips and exercise selection may produce varied muscle growth responses in different muscles.
Bodybuilding 101: Stretching for Size: You know you should stretch, so be good to your body with these easy movements that help prevent muscle pulls and tears.
Smoking Muscles: Fighting fires takes more than just individual brute strength - it requires professional training and a lot of muscle. Here's a heated training routine designed to meet the specific needs of firefighters.
Shock it to Me: Five pros share the killer routines that blast them out of their workout doldrums.
The Weider Principles: Quality Training: Ms. Olympia Kim Chizevsky shows you how to implement this technique into your training to achieve a leaner, more muscular physique.
53 Bodybuilding Tips: Small changes can add up to big results when you employ this plethora of training, nutrition and recuperation tips from the experts.
Deadlift & Grow: The proper technique for unworldly growth in your traps, erectors, glutes, hamstrings and grip.
Features:
The Big Betrayal: If you see yourself as smaller than you really are, you could be suffering from muscle dysmorphia. Find out what has been discovered and how you can avoid it.
The Chemistry of Love: What sparks that certain something that mysteriously draws two individuals together?
The Big One: Thousands of pounds of beef will shake the roof of Long Beach's Terrace Theatre as the Mr. Olympia contest returns to Southern California.
City Scene: Los Angeles: Shawn Ray plays Southern California tour guide, showing Olympia attendees the best place to train, the healthiest restaurants and much more...
Touch & Grow: If you've tried everything to get big and still don't see results, you may need to work smarter, not harder. Discover how touch training can improve the mind muscle link.
Setting the Record Straight; Joe Weider reviews the history of the IFBB drug testing program and tells what lies ahead.

Nutrition:

Muscles & Mushrooms: Can these compounds benefit the bodybuilder who wants to increase both the volume and intensity of training for faster gains without overtraining?
Aroma Diet: Want a safe, inexpensive way to curb your urge to binge? WM&F has discovered something better than fad diets and diet drugs ... scent sniffing.
Carbophobia: Should you fear eating carbohydrates at night? Check out the research and decide for yourself.

Personality:

A Cutler Above the Rest: In this in depth interview, Jay Cutler reveals what makes him tick.

Women:

The Body Eclectic: How '97 Ms. International Yolanda Hughes built the back that stole the show at the Arnold Classic?

Cutting Edge:

Sports Medicine: Cortisone Injections - Safe or Sorry?
Vitamin Corner: Athletes & High Fat Diets

Departments:

Editorial: Fixing the Country with Fitness by Joe Weider
Perspective: by Tom Deters
Feedback
Success Stories: Diets Don't Work
Hotline
Mind in Bodybuilding: Building self-confidence, part 2
Body by Betty: Invigorate!
Training Notebook: Ab Crunch
Training Notebook: Kinesiology:
Training Notebook: Advanced Training with Mr. Olympia
Lab Notes: The Keys to Gaining Weight
Bodybuilding Science: Branched Chain Aminos & Fat Loss ... Glycogen & Exercise Intensity ... Fat Burning Protein Discovered...
One Minute Lesson: Setting the Angle on the Incline Press
Ask Arnold: Why are your calves lagging?
Nutrition Journal: The Miracle Cabbage Soup Diet
Muscle Fare: On the Grill
Hot Bodies: Madonna Grimes
The Marketplace
M&F Web Watch
Coming Next Month

---