---
Muscle & Fitness Magazine

For more information, call (800) 521-0303
---
October 1997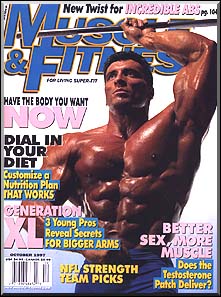 Muscle & Fitness is considered to be the best of the non-hardcore bodybuilding magazines. It contains lots of information about the principles of fitness & bodybuilding. Each monthly magazine usually contains information about weight training, nutrition, training, bodybuilding and many other topics that are current in the bodybuilding and fitness world. Muscle & Fitness is more of a mainstream bodybuilding magazine, which has excellent articles and pictures. The fitness competitor on the cover is Milos Sarcev, photographed by Robert Reiff.


---
October 1997 Table of Contents
---
Superfeature:
7th Annual Muscle & Fitness NFL Strength Team: It's that time of year again - football season. Find out which six NFL physiques made our best of the best list and learn their tailor made training programs. The coverage is highlighted by our annual strength team.

Hit the Gridiron: M&F consulted some of the top strength coaches in the country to devise a program than can maximize your football skills. We'll show you how to train to be explosive, powerful strong and fast for four full quarters.
Training:
Steel Wheels: Nasser El Sonbaty reveals how he built two of the biggest quads in bodybuilding.
The Weider Principles: Holistic Training: Why Eddie Robinson says training variety is the key to building a complete physique.
Young Guns: Three members of bodybuilding's generation X reveal the latest tricks of the arms trade. Watch their biceps grow!
Fabulous Baker Bi's: How Aaron Baker builds his biceps to super heroic proportions.
Targeting Problem Areas: Rear Delts: Four top pros give their advice on how to build this hard to reach area.
Get it Right: Dumbbell French Press: The proper technique and execution for forging titanic triceps.
Features:
One on One: Just because someone has the biggest, baddest body doesn't guarantee he's a great trainer. Here's how you can find one who best meets your needs.
Mindstyles: Dorian Yates: Go behind the muscle and find out where this bodybuilding superstar got the mental strength to turn hard times into successful lessons.
I've been Weight(lift)ing for a Girl like you: A humorous look at why and how a guy takes up bodybuilding.
Modern-Day Milos: Milos Sarcev brings to life the idealized physique of classical times.
The Testosterone Patch: Better sex, bigger muscles - but could this new hormone therapy work for you?
Science Fiction: Questions you should ask the next time you see a banner headline or incredible ad for a new bodybuilding product.
Nutrition:
Priming the Pump: Your preworkout meal provides you with the fuel to get pumped, but what's best to eat?
Nutrition 101: Back to Basics: This simple program includes some kept tips on nutritional timing, metabolic enhancement and preferred food and supplement choices.
Supply & Demand: The keys to training volume, supplementation and nutrition.
Androstenedione: A critical look at this testosterone precursor that's being promoted as a hot new supplement.
Women:
Bone Up with Strength Training: Whether you're in your 20s, 30s or older, a new workout regimen can help you build and maintain youthful strength.
New Twist on Abs: Theresa Hessler shares the ad-training secrets that developed one of the sport's hottest bodies.
Cutting Edge:
Sports Medicine: Mouthing Off
Vitamin Corner: The Use and Abuse of Ephedrine
Departments:
Editorial: Exercise... The Miracle Pill with Fitness by Joe Weider
Perspective: Lost in Cyberspace: by Tom Deters
Feedback
Success Stories: From two extremes to balanced
Hotline
Mind in Bodybuilding: Top achievers vs. the rest
Body by Betty: Early warning systems
Training Notebook: One Arm Dumbbell Row
Training Notebook: Kinesiology:
Training Notebook: Advanced Training with Mr. Olympia
Lab Notes: NAC helps improve muscle performance
Bodybuilding Science: More proof that creatine works ... Lysine: An important amino for growth.... the Science behind the reps...
One Minute Lesson: Basics of Belt Use
Ask Arnold: Hammering the Hamsprings
Nutrition Journal: Sodium Savvy
Muscle Fare: Muffin Mania
Hot Bodies: Melissa Coates
The Marketplace
Coming Next Month
---