---
Muscle & Fitness Magazine

For more information, call (800) 521-0303
---
November 1997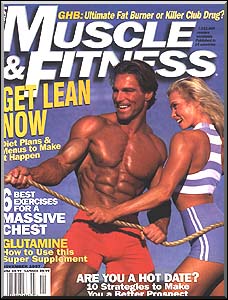 Muscle & Fitness is considered to be the best of the non-hardcore bodybuilding magazines. It contains lots of information about the principles of fitness & bodybuilding. Each monthly magazine usually contains information about weight training, nutrition, training, bodybuilding and many other topics that are current in the bodybuilding and fitness world. Muscle & Fitness is more of a mainstream bodybuilding magazine, which has excellent articles and pictures. The fitness competitor on the cover is Clark Bartram and Jennifer Goodwin, photographed by Kal Yee.


---
November 1997 Table of Contents
---
Training:
Pressing Forward: New Jersey once again produced a USA class champion, this time light heavyweight Jason Arntz. Here's how he built one of the amateur ranks' best chests.
The Weider Principles: Iso-Tension: Whether you strut your stuff onstage or off, flexing and posing is one key to achieving muscle separation and detail.
Bodybuilding 101: 6 Best Exercises for Chest: You don't have to head to the bench press first thing to build a full, thick barrel chest. Change up your routine with these proven mass builders.
Size vs. Strength: The practical science behind manipulating the variables of volume, intensity and exercise selection in your workouts. Try our customized training cycles to build both size and strength.
Guns at Large: Canadian colossus Greg Kovacs reveals his secrets for building a pair of the world's most massive biceps.
Get It Right: Bent-Over Row: Here's the right way to build your erectors, lats and traps.
Features:
Conan Returns: Former Mr. Universe Ralf Moeller muscled his way into Hollywood, and now he's stepping into Arnold's shoes to bring Conan to prime time TV.
Not Just for Kicks: A total training routine to help you score big on the soccer field, plus tips from top athletes Mia Hamm and Brian McBride.
The Battle of Broadway: An eye-popping array of women bodybuilders and fitness competitors will pose and dance the night away as the Ms. Olympia and Fitness Olympia coverage upon New York City.
The Dating Game: Looking for Mr. or Ms. Right? One expert's winning strategies can help you keep the fire burning after that first hot date.
The Skinny on Liposuction: It may be one of the top cosmetic surgery procedures in the United States, but liposuction isn't a care all for the less than perfect physique.
Anti-Aging Strategies: On a mission to outmuscle Father Time? The latest research can help.
Built for Power: Top amateur bodybuilders and fitness competitors at Hoover Dam.
New Bodybuilding Discoveries from the World's Leading Experts:
GHB: How B-A-D is it? You're in the dark ages if you think this dangerous drug could improve your physique. Too many people have suffered its deadly effects.
Nutrition:
Beef is Back! Mooove over, chicken and fish! When it's low-fat, high-protein red meat isn't a bum steer.
Nutrition 101: Basic Strategies for Getting Lean: Customized programs, meals and menus to help you lose fat now.
Glutamine: The Superstars of Supplements: The jack of all trades amino acid may be a bodybuilder's best buy.
Personality:
Raw Beef: Top fitness competitor and guest editor Carol Semple-Marzetta asks all the tough questions of defending Ms. Olympia Kim Chizevsky in this candid interview.
Women:
Spice It Up!: IFBB fitness pro Susie Curry's dynamic leg-shaping routine.
Departments:
Editorial: The Workout vs. Willpower by Joe Weider
Perspective: by Tom Deters
Feedback:
Success Stories: Muscling in on Crohn's Disease
Hotline:
Mind in Bodybuilding: Lifting the performance barbell
Body by Betty: Home, Sweet Home Office
Training Notebook: Standing leg Curl
Training Notebook: Kinesiology
Training Notebook: Advanced Training with Mr. Olympia
Lab Notes: Satellite Cells
Bodybuilding Science: Fire up your metabolism ... Of Mice, Men and the Juice ... Choosing the right carbs & fat...
Ask Arnold: Putting Size on Thighs
Nutrition Journal: Carbs - a complex subject
Muscle Fare: Asian Beef Magic
Cutting Edge: Sports Medicine: Don't let shoulder pain stop you.
Cutting Edge: Vitamin Corner: The Complexities of Vitamin C
One Minute Lesson: Heel Elevation in the Squat
The Marketplace:
Coming Next Month:
---