December 1997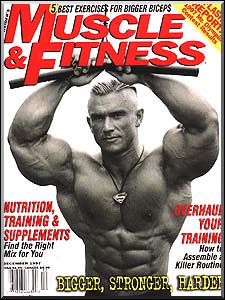 Muscle & Fitness is considered to be the best of the non-hardcore bodybuilding magazines. It contains lots of information about the principles of fitness & bodybuilding. Each monthly magazine usually contains information about weight training, nutrition, training, bodybuilding and many other topics that are current in the bodybuilding and fitness world. Muscle & Fitness is more of a mainstream bodybuilding magazine, which has excellent articles and pictures. The bodybuilder on the cover is Lee Priest.


---
December 1997 Table of Contents
---
Contest:
MR. OLYMPIA WEEKEND FLASH REPORT
Bodybuilding's biggest competition brought the sport's top names to Long Beach, California, and our photographers were there to capture the action onstage and behind the scenes. Plus, coverage of the fourth annual Masters Olympia.
Training:
PEC EXPRESS
Like Arnold before him, Austria champ Roland Kickinger is looking to make it big in Hollywood - and onstage. Here's the chest workout that keeps him on the right track.
BODYBUILDING 101: 5 BEST BICEPS EXERCISES
Don't waste your time with ineffective arm movements; these five exercises are proven to help you grow big, full biceps that get noticed.
THE WEIDER PRINCIPLES: MUSCLE CONFUSION
Stuck in a rut? Top pros Ronnie Coleman, Vickie Gates and Craig Licker discuss how this principle can help you blast past the boredom barrier to create new muscular gains.
OVERHAUL YOUR TRAINING
Say good-bye to mistakes of the past and get ready to realize your full physical potential with this cutting edge training manual.
TARGETING PROBLEM AREAS: CALVES
Most people have the capacity to crate shapely calves, but few actually do what it takes to get massive lower legs. Four bodybuilders tell us how they built the muscles made for walking.
KINGPINS
Today's top bodybuilders can move some serious weight. Try this killer quad training routine and you will, too
QUAD RADICAL
Chris Cormier explains how he went from being a 'manchild' to the successful pro he is today, and how he pushes his leg conditioning to the limit.
GET IT RIGHT: THE GOOD MORNING
This oldie is still a great way to smoke your hamstrings and lower back, and we show you how to do it properly.
Features:
"HEY, CAN I GET A SPOT"
Most bodybuilders don't think about spotting technique until they've suffered or caused an injury. Here's how you can be the ultimate training partner.
WHY BODYBUILDERS ARE BETTER LOVERS
A sleek, muscular physique is part of the equation that adds up to great sex.
MERRY FITNESS & A HAPPY NEW YOU
The 9th annual M&F gift guide has lots of great items for the fitness enthusiasts on your list, or maybe even yourself!
VITAMIN L
A daily dose of laughter is good for body and soul.
NEW STRENGTH-TRAINING STRATEGIES
Cutting edge training information from the National Strength and Conditioning Association's 20th annual conference.
Nutrition:
15 HOLIDAY PHYSIQUE BUSTERS
The terrible truth about some festive foods, and tasty alternatives that'll save you from turning into a butterball.
TAURINE
Everyone knows about the most abundant amino acid, glutamine, but what about taurine, a conditionally essential amino acid that ranks No. 2?
TWICE AS BIG
You have to know the basics before you can see serious gains. Solid advice from someone who's been a beginner - twice.
Personality:
AT HOME WITH LENDA MURRAY
A look inside Lenda's private life and her thoughts on placing second at the 1996 Ms. Olympia.
Women:
CONSTRUCTION ZONE
There's nothing lightweight about USA class winner Tonia Villalobos' back and shoulder training.
Cutting Edge:
RECUPERATION
What does massage really do?
VITAMIN CORNER
All Vitamin E is not created equal
Departments:
Editorial: Fitness Equals Health by Joe Weider
Perspective: by Tom Deters
Feedback
Success Stories: Life Threw Me a learning Curve
Hotline
Mind in Bodybuilding: Precompetition Sabotage
Body by Betty: Have a Ball!
Training Notebook: Reverse Pec Deck Flye
Training Notebook: Kinesiology:
Training Notebook: Advanced Training with Mr. Olympia
Lab Notes: CLA may improve Anabolic Status
Bodybuilding Science: Vitamin E prevents Muscle Skrinkage ... DHEA and Prostate Cancer ... Muscle Growth and Aerobic Activity ... Are the Sexes really Equal?
One Minute Lesson: Strapped for Grip Development
Ask Arnold: The Quest for a Bigger Chest
Nutrition Journal: Let's Talk Turkey
Muscle Fare: Real Bodybuilders Eat Quiche
Hot Bodies: Kevin Lawrence and Diana Dennis, Sharon Bruneau
The Marketplace
Coming Next Month
M&F 1997 Article Index