January 1998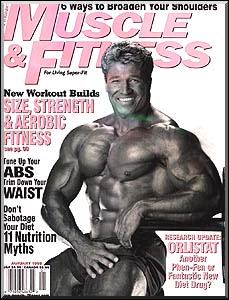 Muscle & Fitness is considered to be the best of the non-hardcore bodybuilding magazines. It contains lots of information about the principles of fitness & bodybuilding. Each monthly magazine usually contains information about weight training, nutrition, training, bodybuilding and many other topics that are current in the bodybuilding and fitness world. Muscle & Fitness is more of a mainstream bodybuilding magazine, which has excellent articles and pictures. The bodybuilder on the cover is Gunter Schlierkamp.


---
January 1998 Table of Contents
Volume 59, Number 1
---
Contests
JOE WEIDER'S MR. OLYMPIA
JUDGEMENT DAY!
Dorian Yates makes it victory number 6 in an exciting evening of muscle madness hosted by comedian Dana Carvey.
JOE WEIDER's MASTER OLYMPIA
MISSION ACCOMPLISHED
Vince Taylor takes home his second Masters Olympia title.

Training
WINGS OF A CHAMPION
Mr. Olympia Dorian Yates doesn't spend much time on the farm anymore, but his bard door back is unequaled in the world of bodybuilding.
COMBAT READY
Hitting the weights will add power to your martial arts training.
TRIPLE THREAT
Muscle building meets aerobics in this innovative workout.
BODYBUILDING 101
THE 6 BEST DELT EXERCISES
Want to fill out your sportcoat without any help from shoulder pad? Try these six mass building movements.
TARGETING PROBLEM AREAS: LOWER BACK
Oh Christmas tree, oh Christmas tree! How lovely are thy branches.
GET IT RIGHT: STANDING BARBELL CURL
Make sure you're doing this biceps blasting exercise correctly.
TRAINING WITH THE MASTERS
How did the Masters Olympia contestants look so good? Find out as winner Vince Taylor trains his ageless abs, Sonny Schmidt shares leg training secrets, and Ed Corney carves his legendary pecs.

Features
PHYSIQUE FANTASIES
Your fantasy world can help your creatine a more satisfying life - and motivate you to keep pumping in the gym.
12 OZ CURLS
A few happy hour drinks may make you unhappy with your bodybuilding gains.
BULIMIA "MY OWN PERSONAL HELL"
Amateur bodybuilder Vinnie Galanti tells how he battled his way past this eating disorder to make his comeback in 1997.
STRETCH BETWEEN SETS
A three time Mr. Olympia shows you the fluid moves to keep your muscles mobile throughout your workout.
REAL PEOPLE, REAL RESULTS:
PHYSIQUE THERAPY
Al Escobar, a top amateur and physical therapist, builds his own body and help patients heal theirs.
THE NEXT GENERATION OF DIET DRUGS: ORLISTAT
Now that the phen-fen frenzy has ended, orlistat offers a new way to shed fat.
THE OLYMPICS OF THE NON-OLYMPIC RECOGNIZED SPORTS
Juan Antonio Samaranch, president of the International Olympic Committee, made a trip to the World Games in Lahti, Finland, to meet with Ben Weider and view a bodybuilding event.

Nutrition
NUTRITION MYTHS
You'll experience greater rewards in your quest for a great physique if you avoid these common diet mistakes.
NUTRITION 101: THE NO COOK BODYBUILDING DIET
You can have quick, easy to prepare meals and still get the nutrients you need to grow. Here's how.
THE ABC's of BCAA's
A basic primer on branched chain amino acids, which are more than just an important fuel source for your muscles.

Women
SEMPLY BEAUTIFUL BICEPS
Carol Semple - Marzetta uses iron to sculpt her winning physique.

Cutting Edge
RECUPERATION
Ultrasound Studies
SPORTS MEDICINE
Women's Work - Shoulders and Knees

Departments
Editorial: Health and Happiness by Joe Weider
Perspective: by Tom Deters
Feedback
Success Stories: This disease isn't going to take my life
Hotline
Mind in Bodybuilding: Train with Passion and Commitment
Body by Betty: Baby Talk
Training Notebook: Straight Arm Lat Pull Down
Training Notebook: Kinesiology:
Lab Notes: Discovered: The Muscle Building Gene
Bodybuilding Science: How diet affects testosterone levels ... Interleukin-15: Growth factor for muscle ... Creatine's effect on performance and testosterone
One Minute Lesson: What's the best exercise?
Ask Arnold: A back in your future
Nutrition Journal: 'Tis the season
Muscle Fare: Fantastic Frittata
Hot Bodies: Debbie Kruck, Pirjo Ilkka
The Marketplace
Coming Next Month