February 1998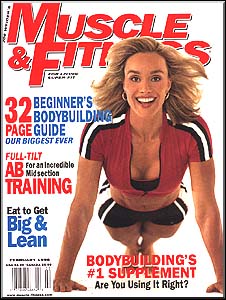 Muscle & Fitness is considered to be the best of the non-hardcore bodybuilding magazines. It contains lots of information about the principles of fitness & bodybuilding. Each monthly magazine usually contains information about weight training, nutrition, training, bodybuilding and many other topics that are current in the bodybuilding and fitness world. Muscle & Fitness is more of a mainstream bodybuilding magazine, which has excellent articles and pictures. The athlete on the cover is Cory Everson.


---
February 1998 Table of Contents
Volume 59, Number 2
---
Superfeature
COMPLETE GUIDE FOR BEGINNING BODYBUILDERS
Ready to hit the gym? Our three month beginner's program comes complete with exercise descriptions and advice from the pros, plus lots of insider tips to get you started.
ROUTINE CONSTRUCTION
You need to understand basic training variables and how to alter them in your workout to continue making bodybuilding gains.
COMEBACK KID
If you've been away from the gym awhile, read this before you start back. Your good intentions may lead to injury if you don't.
MASS ATTACK
An easy to follow mass gaining plan for beginners that will help you super size your physique.
STICK WITH THE PROGRAM
Follow these guidelines to turn your New Year's fitness resolutions into a lifetime commitment.
THE PAIN FACTOR
Should beginners train to failure for maximal muscle growth? Advice from the experts on this sore subject.
M&F Training Low
Keep track of your workouts with this handy copy and use form.

Training
TITO TACKLES ABS
Amateur bodybuilder Tito Raymond pours energy into everything he does from coaching high school football to training his midsection.
CARDIO RESUSCITATION
Plenty of alternatives are available if your cardio workout leaves you tired and uninspired.
PUMP FICTION
Don't believe all the advice you hear in the gym until you read these top 20 training myths.
GET IT RIGHT: STANDING BARBELL CURL
Learn the right technique for this biceps blasting movement.
GRUELING WORKOUT
Tough quad training gave Claude Groulx the legs to become a threat in professional bodybuilding

Features
MINDSTYLES: CORY EVERSON
The making of a champion! What motivates this six time Ms. Olympia and successful businesswoman?
IN YOUR FACE
These intense workout photos show what the mind can push the body to achieve.
REAL PEOPLE, REAL RESULTS: BODY & SOUL
Kevin Eubanks, 'Tonight Show' bandleader, divides his passion between music and muscles.
WORK IN PROGRESS:
Think only fit women have an audience? M&F checks out one of the first men's fitness shows.
CITY SCENE: MIAMI'S SOUTH BEACH:
IFBB pro Darrem Charles shows you where to pump your pecs in the morning, tan your back in the afternoon and shake your glutes till the wee hours.
DUMBBELL INITIATION
A humorous look at the joys of being a beginning bodybuilder.
IFBB REPORT: GIVING CREDIT
Nutrition
TRIBULUS ON TRIAL
Does this supplement deserve all the attention it receives?
CREATINE
The latest, scientific findings on how to best use creatine in your bodybuilding regimen.

Women
TRI'D & TRUE
Laura Creavalle describes the triceps routine that keeps her in peak form.

Cutting Edge
TRAINING
The lowdown on the Pull-Down
SPORTS MEDICINE
Pressing news on elbow impingement

Departments
Editorial: Muscle Up for Health by Joe Weider
Perspective: Are We Having Fun Yet by Tom Deters
Feedback
Success Stories: An hourglass figure & more
Hotline
Lab Notes: Evening primrose Oil
Mind in Bodybuilding: Avoid beginner burnout
Body by Betty: Slivered to Death
Training Notebook: Concentration Curl
Training Notebook: Kinesiology:
Training Notebook: Advanced Training with Mr. Olympia
One Minute Lesson: To Squat or not to Squat
Bodybuilding Science: CMO - A new cure for aching joints?
Bodybuilding Science: Chromium Picolinate vs. Nicotinate
Bodybuilding Science: Sodium Citrate improves exercises capacity
Ask Arnold: You're a beginner only once
Nutrition Journal: Know the Score
Muscle Fare: Keeping warm with chili
Hot Bodies:
The Marketplace
Coming Next Month