March 1998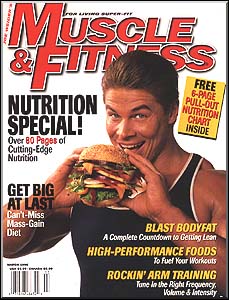 Muscle & Fitness is considered to be the best of the non-hardcore bodybuilding magazines. It contains lots of information about the principles of fitness & bodybuilding. Each monthly magazine usually contains information about weight training, nutrition, training, bodybuilding and many other topics that are current in the bodybuilding and fitness world. Muscle & Fitness is more of a mainstream bodybuilding magazine, which has excellent articles and pictures. The bodybuilder on the cover is Roland Kickinger.


---
March Table of Contents
Volume 59, Number 3
---
Special Nutrition Issue
GET IT TO GO
Running late and feeling hungry? Here's a look at what to eat - and avoid - when you dine fast food style.
THE CAN'T MISS MASS GAIN DIET
Help for the hardgainer: An effective nutrition strategy to help you put on more quality mass than you ever though possible.
3-2-1 FAT LOSS
The keys you will need to create a leaner physique
AMINO FILES
An in depth look at the amino acids that are especially critical for bodybuilders
SWEET TALK
Are simple sugars better for fast energy? What's the difference between sucrose and fructose? Answers to all your sweetest questions.
MUSCLE FUEL
A great workout begins as much as 24 hours before you enter the gym. Here's what you should eat and when for high octane training.
WATER WORKS
Keep chugging that wet stuff - water is the most important nutrient for good health and is essential for peak performance.
SURVIVING BAD FOOD DAYS
Giving in to your cravings doesn't have to mean an end to your bodybuilding gains. Here's how to cheat on your diet without blowing it.
GROWTH FUNDS
Buying dietary supplements doesn't have to empty your wallet. Here are our tips on how to get more bang for your buck.
GOURMET ON THE GO
Bodybuilder friendly recipes that let you prepare ahead for days of healthy eating.
HOW MUCH DO YOU KNOW ABOUT BODYBUILDING NUTRITION?
Test your knowledge of the foods you eat.
DIARY OF A BODYBUILDER
Bodybuilder Jay Cutler and fitness competitor Dale Tomita use training logs to track their progress. Doing the write stuff can help you achieve faster results too.
NEW & IMPROVED
The latest advances in bodybuilding supplements.
PULL OUT GUIDE
Bodybuilding Foods: Design your own muscle meals and super snacks.
Bodybuilding Supplements: Looking for size, cuts , energy, performance, recuperation? Find the best products to enhance your individual goals

Contests


COLUMBUS DAYS
True muscleheads will make the annual pilgrimage to Ohio for the Arnold Classic Weekend.
THE NEW YORK KNOCKOUTS
A super ripped Kim Chivesky comes from behind to win her second Ms. Olympia title, while Carol Semple-Marzetta finally nabs the Fitness Olympia on the strength of her incredible routine.

Training


VOLCANIC PEAKS
Darrem Charles created the best physique in the Caribbean with intense workouts that built his mountainous arms.
BODYBUILDING101:
6 BEST QUAD EXERCISES
If you want your stems to grow, start with these six fundamental moves.
GET IT RIGHT:
ABDOMINAL CRUNCH
Learn the correct technique to crunch your way to a firmer, stronger midsection.

Women


FLYE GIRL
Debbie Kruck does all the right moves to build a strong, shapely chest.

Cutting Edge


VITAMIN CORNER
The vitamin puzzle.
RECUPERATION
Clean Up Time

Departments


Editorial: Listen! Build Muscle! by Joe Weider
Perspective: by Tom Deters
Feedback
Success Stories: Beating a different drum
Hotline
Lab Notes: Food for Thought
Mind in Bodybuilding: The benefits of brain power
Body by Betty: Lighten Up!
Training Notebook: Rope Pressdown
Training Notebook: Kinesiology:
Training Notebook: Advanced Training with Mr. Olympia
One Minute Lesson: Building Huge Wheels
Bodybuilding Science: The Dynamic Duo: Glutamine and Alanine
Bodybuilding Science: Does Caffeine negate Creatine
Ask Arnold: The best way to bulk up
Nutrition Journal: Let's get cooking
Hot Bodies: Rhonda Rydell
The Marketplace
Coming Next Month