March 1998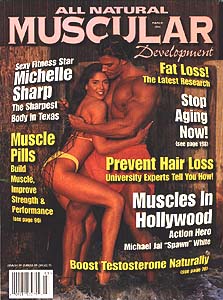 The look of natural bodybuilding and less on the hardcore look is what Muscular Development stands for. With everything geared towards the natural look, it continues to attack steroids, drugs, etc. On the cover is bodybuilder Frank Sepe and Galaxy star Michelle Sharp.
Muscular Development, owned by Twinlab, is another serious bodybuilder magazine that concentrates on natural bodybuilding, but also covers fitness and health related items. They pride themselves on giving its readers extensive coverage on the cutting edge of training, diet and nutrition articles. It also has great pictures of bodybuilders, and makes for enjoyable reading.
---
March 1998 Table of Contents
Volume 35, Number 3
---
Natural Training
AS I SEE IT
The Family: Natures most powerful growth and recovery factor.
ECCENTRIC MUSCLE ACTION
The importance of the eccentric muscle action in the development of muscle size, strength and power - a major research study.
ASK THE LEGEND: STEVE REEVES Q&A
Should women avoid certain exercises?
NATURAL BODYBUILDING DIGEST
Is it unfair for naturals to compete against drug users?
LABRADA'S OUTLOOK
Advice for future champions
THINKING BIG
How to make every workout a great workout.
ASK THE EXPERTS
Squats at the end of a workout
KINESIOLOGY
Reverse dumbbell curls for think, contoured arms.
CALENDAR OF UPCOMING EVENTS
New! List your natural show here!

Health & Fitness
BEST OF HEALTH
Stop Aging ... Part Two

Nutrition
STATE OF THE ART
Choosing the best fuel for endurance... Diet and immune function... Carnitine boosts power... Amino Acids and Growth Hormones...
EAT TO WIN
Redux and Fen-Phen: Deadly diets drugs removed
MUSCLE MEALS
Good fat, huh? Good fat? Is there such as thing? Yup.

Research
HOT BREAKING RESEARCH
Diet and exercise... Fear of eggs ... Sports Drinks ... Exercise and sleep ... Lowering your lipids ... Chronic fatigue syndrome... Lactate and testosterone....
STRENGTH & CONDITIONING
Timing of protein intake... Creatine Monohydrate and jump / spring ability... Combined training to increase power...

Supplementation
DRUGS IN SPORTS Q&A
The NCAA's drug testing program at work
FAT NEWS
Ephedrine and caffeine: more evidence of safety
DIETARY SUPPLEMENT REVIEW
Pyruvate: an intermediary with promise!
ANABOLIC REVIEW
Steroids and HDL-Cholesterol... Increased testosterone levels after exercise... Cigarettes, hormones and prostate enlargement.

Features
MAXIMIZING YOUR BODY'S TESTOSTERONE
Part one, Nutritional means
BEST BODYBUILDING SUPPLEMENTS
Part two. Creatine, Acetyl-L-Carnitine - a major supplement review by one of the field's acknowledged experts
MICHELLE SHARP
The sharpest body in fitness! The statuesque splendor of the 1997 Ms. Galaxy swimsuit champion
MICHAEL JAI WHITE
Born to be a superhero! Muscles in Hollywood: Spawn star combines acting sensitivity with athletic prowess
WILL GLYCEROL CHANGE THE SPORTS DRINK INDUSTRY?
A new era is dawning for fluid replacement drinks
THE SURGICAL HAIR REPLACEMENT THAT LASTS
Vital information for the follically challenged.

Entertainment
MUSCLE MAIL
Thoughts on the natural scene... love those fitness divas... natural in name only?
ON THE WEB
Now fortified with sex bytes and diet bytes
CYBER-BUZZ
Celebrity scoop! ... Charles Barkley bar brawl... Tyson's demolition derby... hooters and weiners!
MENTZER SPEAKS
The all new Mike Mentzer's Audio Tapes, Part One
WAYNE'S WORLD
They called him... Brutal Bertil
HEAVY DUTY Q&A
Universal principles, but...
ROMANO'S RAGE PAGE
Itís time to tell a few people off!
CLASSIFIEDS
NEW PRODUCTS
New, expanded section!
MAX REP
My bloody Valentine: Not laughable, but definitely unphotographable