---
Natural Bodybuilding & Fitness

For more information, call (212) 947-4322
---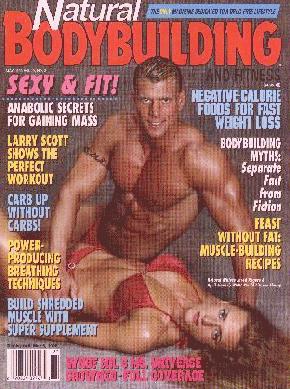 The May 1996 Natural Bodybuilding & Fitness Magazine features a lot of information about natural bodybuilders and contests which occurred in the NGA, and the WNBF. Steve Downs, WNBF Chairman, has worked hard to secure drug free competitions around the United States. ba
---
Natural Bodybuilding & Fitness prides itself as 'the only magazine dedicated to a drug free lifestyle'. Natural Bodybuilding is hot, as evidenced by the huge membership in natural bodybuilding organizations worldwide. Physiques are getting better because of the greater involvement of science on the nutrition, supplementation and training levels, not due to drug use. Check us out.


---
Table of Contests - May 1996 issue
---
Features
Kathy Unger: A Hunger for Greatness
Dispelling Bodybuilding Myths: Part One
Damian Fisher: Bodybuilder Turned Promoter
Overcoming Adversity: Lynda Wyman's Comeback
Training
Aussie Superstar Steve Jones Blasts Legs
Hardgainer's Corner: Five Secrets to Add Mass
Arm Pounding with Joe 'Intimidator' Patterson
Conscious Breath Control for Greater Power
The Perfect Workout in Only 37 Minutes
Full Range of Motion: Is it Really Best?
Nutrition
Supplements: Increase Testosterone / Cortisol Ratio
Carbing Up Without Carbs
Natural Gourmet: Feast Without Fat
Nutrition: Negative Calorie Foods For Weight Loss
Departments
Editor's Page
Product Review
Natural News
WNBF News
Fitness News
Fitness First: Choosing Your Swimsuit
NGA News
Power News
Reader Physiques
Coming Events
Physique Greats
Last Rep
1995 Contest Coverage
WNBF Pro Natural Worlds News Flash
WNBF Pro Natural Mr. / Ms. Universe
NGA Natural Hercules
NGA Potomac Cup
NGA Natural Wisconsin
NGA Natural Mountain States
SANBA South Africa Naturals
Mr. Napanoch Contest
---