---
Prime Health & Fitness Magazine

For more information, call (800) 521-0303
---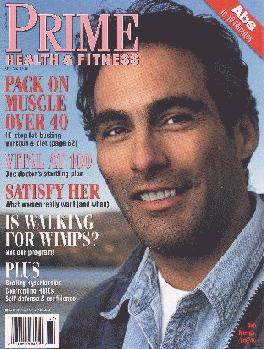 The Spring 1996 issue has many interesting articles. This newer magazine, for the active man who is into fitness, has articles about workouts, circuit training, and much more. The model on the cover is Bob Menna.
---
Prime Health & Fitness magazine is dedicated to the confident, active man over 35. It covers advice on all areas, including health, nutrition, mental fitness and sexuality, to graying hair, job stress, marriage, divorce and parenting. Is is geared to the man who has no intentions of slowing down as he matures.


---
Table of Contests - Spring 1996 issue
---
Features
Coming Clean: Women really do want it. Bot no how, where and when you think.
Circuit Training: An easy to follow exercise program that improves your cardiovascular system and building lean body mass.
Food as Fuel: Fire up your metabolism and win the weight loss game by eating smart.
Vital at 100: A fountain of youth may be opening up near you. Should you take a sip?
Dinner at the Fantasy Cafe: Remember the comforting blue specials of yore? They're back and better than ever.
Stride Right: Fitness guru Kathy Smith challenges you to take a hike
Under Pressure: Hypertension can be murder. But with some minor adjustments, you can beat the 'Silent Killer'.
If Looks Could Kill: Learn the secrets of confidence from the Gracies, Brazil's Ultimate Fighting Family.
Getting Layered: Stay warm and dry this spring with these stylish new alternatives to your smelly old sweats.
Departments
R&D: Fast takes on baldness and meat, anger and heart attacks, arousing scents and more.
One Paddle: One Boat and a Storm. Steve Sinclair calls his sport storm-sea skiing. His critics call it nuts.
Roll Models: Roller stakes have changed plenty since you grew up
Total Recall: Forgetting things? Some quick tricks to improve your memory?
Alternative Fixes: Scientists may scoff, but natural remedies are going mainstream.
Ten Minute Abs: Build a washboard stomach with these simple exercises.
Managed scare: Think health scare is scary now? Just wait until 2001.
Doctor's Orders: Straight answers to those personal questions.
Back from Hell: A Vietnam vet's long journey from drug abuse to bodybuilding.
Above the Neck. To dye or not to dye; plus, face washing tips.
Bad Guys, Beware. John Walsh of 'America's Most Wanted' hunts fit.
Bloody Good: When you feel like steak, eat one. It's good for you!
Lessons From the Deep: Do sharks hold the cure, or are the claims?
Is Anybody Listening? Attention nonbelievers, studies show that prayer works.
---