---
Prime Health & Fitness Magazine

For more information, call (800) 521-0303
---
Spring 1997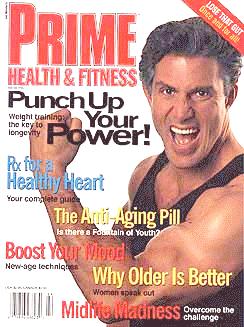 As one of the newer magazines for men over 35, the Winter issue has many interesting articles, including info an the anti-aging pill (if there is one), reverse aging, and DHEA, miracle drug or false promise. The model on the cover is Mike Finizio.
Prime Health & Fitness magazine is dedicated to the confident, active man over 35. It covers advice on all areas, including health, nutrition, mental fitness and sexuality, to graying hair, job stress, marriage, divorce and parenting. It is geared to the man who has no intentions of slowing down as he matures.
---
Spring issue - Table of Contents
---
Features:
Lose that Gut: Why be Ralph Cramden when losing weight can be a honeymoon?
Healthy Heart: Stay young at heart with these simple lifestyle changes.
Ski your Heart Out: Rediscover cross country skiing, the ultimate winter workout.
Chemical War Fare: What you don't know about pesticides in your diet could be hurting you.
Power Trip: Burn fat and pack on the muscle in only 90 minutes a week.
Reverse Aging: Live to be 200? New research tells how to turn back the genetic clock.
Break out of the Blues: Our strategy beats the winter blahs and boosts your mood.
Midlife Madness: Here's how to navigate a safe passage to the next part of your life.
Departments:
R&D: Great gear, nine fitness rip offs, how to keep your eyes on the ball, and more news you need.
Anti-Aging News: The latest scientific research to keep you living longer and stronger.
Success Stories: Meet four men in the prime.
Supplements: Why DHEA could be the king of anto-aging hormones.
In Case you missed it: This year's greatest hits in health and fitness.
Rehab: There's no reason why a bad knee should sideline you.
Nutrition: Robert Pritikin continues his father's crusade against fat.
Flexibility: Stretching guru Adrian Crook goes ballistic on flexibility training.
Warriors: Why the Boston Bruins captain still gives a puck about fitness.
Eating Right: Soup is good food.
Sex Life: Straight talk about the questions you were afraid to ask.
Essay: Cut the C.R.A.P., and life will be a whole lot better.
Women's Word: Why old dogs make good tricks.
---