March 1998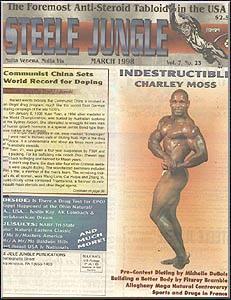 Steele Jungle Publications is a quarterly newspaper dedicated to bodybuilding, powerlifting and exercise. Our emphasis is on natural conditioning; our philosophy to enhance public knowledge and awareness on the dangerous side effects of anabolic steroids, androgens and growth hormones. On the cover is Charly Moss.
---
March 1998 Table of Contents
Volume 7, Number 23
---
FEATURES


Allegheny Mega Natural stirs Controversy

Bogus Powerlifting Sanctions

Faust announces Annapolis contest

French National Team workshop

High school girls on dope

Natural Bodybuilding on the net

Natural Schedules

NPC Pocono Classic evolves

Rounding up the usual suspects

Sugarloaf Strongman / Strongwoman

CULT OF PERSONALITIES



David DePalma: Guest Poser for Mr/Ms Connecticut

Jay Jaillet: Kid USA Pro Wrestler

Justin Kaye: aka Big Guns

AK Leinbach: The American Dream

Daniel Moorie: Aces North Carolina Supernatural

Charley Moss: Keeps on ticking and ticking

Diane Plaitano: Her secret life with Enzo

Joanne Weaver: Buckeye Bodies by Jo

CONTEST RESULTS



AAU East Coast Iron Classic

AAU Jr./Masters America

ACBA Mr/Ms Baldwin Hills

NABF Connecticut Supernatural

NABF Tri-State

NABF NE USA Jr. Nationals

Big Bad NPC Eastern Classic

TRAINING



Building a better body

Coach said be a good sport

Love thy Training

Strength knows no gender

HEALTH & NUTRITION



Missing Link Sold

Pre-Contest Dieting

Test for EPO blood doping

Women's Fitness Misconceptions

POLITICS AS USUAL



IFBB Drug testing at North American

Setting record straight on doping

Soiled Thoughts

Sports and drugs in France

What happened at the Ohio Natural?