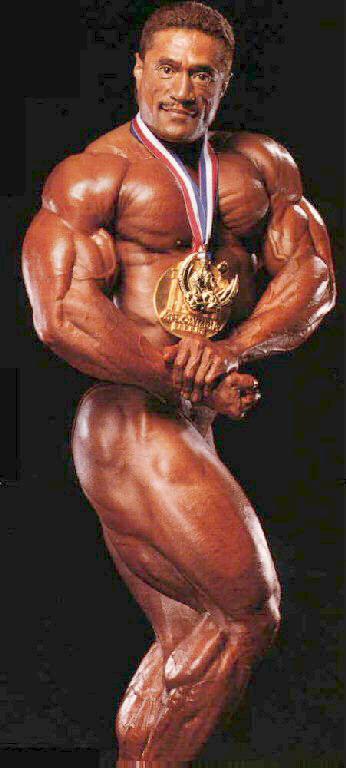 Sonny Schmidt
Pic from Pibba.com
From Tony Doherty, Australian IFBB promoter: I am sorry to report that Sonny Schmidt, passed away this morning January 25, 2004, at home with his family. He was very ill and had returned home on Thursday. His Mum, Son, Brothers and loved ones were by his side. It is a sad day for anyone who met Sonny, He was much loved and will be sadly missed. He died a free man and had a become a devout Christian. Please pray for the soul of the great man. The King is dead!

Edmond Alten Schmidt 19/09/1953 - 25/01/2004

To comment on Sonny or offer condolences, click here:

Sonny Schmidt: Rest in Peace Thread & Comments

---

From Milos Sarcev: I am crushed and can't really say much. Sonny was my older brother and I loved him deeply. He was the most wonderful human being and one of the greatest bodybuilders of all time. I saw him about a month ago – day after he was diagnosed with the cancer … He managed to be positive, he smiled and as usual – asked about my family. He always cared about everyone around him. He would always help everyone around him. Simply – he was a great guy! Sonny – I'll miss you greatly. Rest in peace. Heaven is waiting for you!

From Shawn Ray: Rest in Peace Sonny! If we live long enough we are bound to have to endure the passing of people we care about and know personally. On my last visit to Melbourne this past December, I was happy to have brought Sonny's old roomate from San Diego with me, Milos Sarcev, who got the chance to see him once more before he passed. I was busy with the Muscle Camp but passed on my best wishes through Milos. Sonny, it seemed from Milos, was a changed man who found God before his Passing which is truly a blessing! People live their entire lives sometimes and never truly get understand that through Jesus Christ you gain everlasting life! Sonny, is in Heaven, which has to be a whole lot better than here! My condolences to his family, from the Ray Family! God Speed!

From Lee Priest: I am very sad to hear the news . Sonny and I had a lot of good times in Australia when I was coming up. He and I would always find something to laugh at, he was an all around great guy and yes, he could out eat me in an eating contest which we had every now and then after shows in Australia. My condolances go out to all his family and close friends as he will be missed.

From Usrula Alberto: Wow! I am shocked and so very sad. I was blassed to have known Sonny on a more personal side. he lived with my ex (Milos) and I for years. I loved Sonny so much. This really hurts. I had lost touch with him after the birth of my first daughter (which I am glad he had the chance to meet) and had no idea he was ill until now. Thank you Sonny for all the great times we shared. I send my deepest condolences to his family and his brother who loved him so dearly.

From DekeP: Sonny Schmidt's death today is very sad news. He was a very pleasant person, as well as an excellent bodybuilder who added quality to almost any contest he competed in. So RIP, Sonny; you made your mark in bodybuilding and will be missed. Thank you for coming our way.

From Max Rep: I hate it when we loose a brother of Iron. Bless him.

From Ron Avidan: My condolences go out to his family and friends. And lets remember the wonderful storiies and memories that Sonny brought to us. Here are some of the pro contests that Sonny competed in, and his placings.

Contests include the 1989 Grand Prix Melbourne 7t; 1989 World Pro Championships 8th; 1990 Night of Champion 6th; 1990 Niagara Falls Pro 8th; 1991 San Jose Pro 2nd; 1991 Night of Champions 2nd; 1991 Niagara Falls Pro 2nd; 1991 Mr. Olympia 6th; 1991 Grand Prix Italy 3rd; 1991 Grand Prix Spain 3rd; 1991 Grand Prix Denmark 2nd; 1991 Grand Prix England 5th; 1991 Grand Prix Finland 6th; 1991 Grand Prix Switzerland 5th; 1992 Arnold Classic 3rd; 1992 Pittsburgh Pro Invitational 2nd; 1992 Olympia 7th; 1992 Grand Prix England 3rd; 1992 Grand Prix Germany 3rd; 1992 Grand Prix Holland 4th; 1992 Grand Prix Italy 3rd; 1993 Arnold Classic 8th; 1993 Olympia 8th; 1993 Grand Prix Germany 3rd; 1993 Grand Prix Spain 2nd; 1993 Grand Prix England 4th; 1993 Grand Prix Finland 4th; 1993 Grand Prix France 8th; 1994 Ironman Pro 6th; 1994 Arnold Classic 10th; 1994 Mr. Olympia 10th; 1994 Grand Prix Spain 7th; 1994 Grand Prix England 10th; 1994 Grand Prix Franc 10th; 1994 Grand Prix German 8th; 1994 Grand Prix Italy 8th; 1995 Master's Olympia Winner; 1995 Olympia 13th; 1995 Grand Prix Ukraine 7th; 1995 Grand Prix Spain 7th; 1995 Grand Prix England 7th; 1995 Grand Prix France 7th; 1995 Grand Prix Russian 7th; 1995 Grand Prix Germany 5th; 1996 Master's Olympia 2nd; 1997 Master's Olympia 40+ 2nd; 1998 Master's Arnold Classic 2nd; 1999 Master's Olympia 3rd

From Dan-O: I am sorry that Sonny was cut down in what should have been the prime of his life. That is so sad. My prayers go out for his family and loved ones as well. Fare thee well, Sonny.

From Dutchman Art: Sorry to hear about Sonny. Rest in Peace bro. You'll be greatly missed by all friends and family and fans who didn't ever get the chance to know you.

From Royalty: My condolences. Im sorry to hear this terrible news. Sonny was a great bodybuilder. It is tragic when a person as young as Sonny, passes away. Glod Bless him.

From Flexfan: I'm sad to hear about his passing. Death is difficult to deal with.

From Uhgan Ali: RIP Sonny, you were one of my favorites, I remember watching you in the Olympias you competed in and when you won your Masters Olympia title. This is a sad day, but also a joyous one for Sonny is with God now.

From King Kong: I am very sorry, my condolences to his family.

From LV2010: My prayers will be with him and his family.

From Tomanator: I am sorry to here this sad news. My prayers go out to him and his family. Rest In Peace Sonny.

From Danny: Wow...I'm speechless, Rest In Peace Sonny, my condolences go out to his family and friends, Dan

From DeMarco: R.I.P. to Sonny and condolences to his family. We have truly lost a great athlete.

From Da Frek: May Allah rest his soul in peace. Amen.