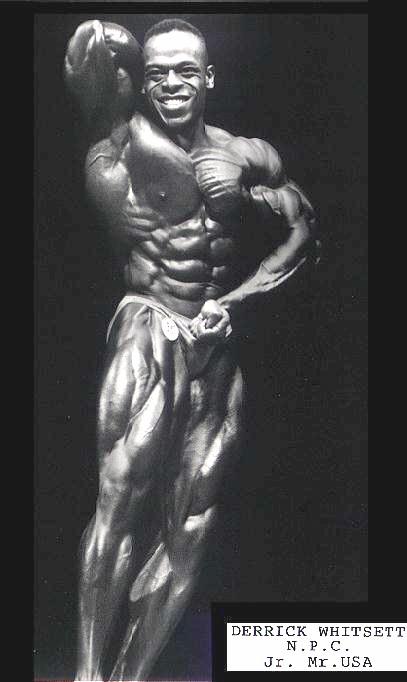 Derrick Whitsett
Pic from the Male Bodybuilder Site
Well, this has been a stunning week. We spoke with John Kemper, NPC Chairperson in New Jersey, and he confirmed this runor.

This is all what I heard, so do not assume that everything is fact, as details are sketchy. Derrick was mugged sometime in December, and was recovering. Unknown to anyone, he had developed a blood clot in the brain. Last week, he started to complain of major headaques, and when he went to the hospital, they scanned him, found the blood clot in the brain, and he went for an operation on Friday. Sometime late Friday Jan 23 / early Saturday Jan 24, he had a heart attack and they couldnt revive him.

My thoughts go out to Derrick's family. He will be missed.

To comment on Derrick or offer condolences, click here:

Derrick Whitsett: Rest in Peace Thread & Comments

---

From JKDMan: I received word from those who are closed to Derrick Whitsett that he has passed away. He was an IFBB pro from New Jersey. Here is a partial competitive bio from Getbig: Contest include the 1994 NPC Nationals 1st light-HWs; 1995 Houston Pro 9th; 1995 Niagara Falls Pro 7th; 1996 Night of Champions 6th; 1996 Florida Cup Pro 5th; 1997 Night of Champions 10th;

My thoughts and prayers go to his family. He was 36 years old.

From Royalty: This is tragic. We lose two former bodybuilding champs in a matter of days. My deepest condolences. God Bless. How quickly a mugging can turn into murder. Hopefully his family can come to terms with this tragic mess and move on. Derrick is in a better place

From Shawn Ray: Derrick was a National Champion and the son of a Minister. Rest in Peace bro. Shawn & Kristie

From Carlo Filippone: I competed with Derrik when he was a local competitor, a great guy and very humble, he was really proud to be a pro! R.I.P My condolences to the family.

From JK: I can't believe Derrick's gone. I wish I would've been able to say goodbye - it's fucked up. He helped me out so much, he was a really good guy; he was great and I am lucky to have known him. This is fucked up man. I wish we never lost touch looking back on it now. He said that he cared for me like a son and that he'd always watch out for me and have my best interests at heart, and I know full well he did. I'll never forget training with him at Diamond Gym, the leg workouts he would put me through were some of the hardest shit I've ever had to go through in my life. He made me feel like a million bucks when I was real down and not knowing if I would ever wrestle again. When my jaw was broke and I didn't think I would be able to even do the '99 NPC Teen Nationals, he pressed my ass and pushed me to keep working and do the show no matter what happened. He would call me all the time to make sure I was training and doing what I could and drinking my tuna and potato shakes. He believed in me so much, even when I was doubting myself. >I wish I could've won that fucking show! I hope I didn't let him down, I don't think I did. I'm really proud of how I trained and how hard I worked for that show even though I didn't win. If I had never met Derrick, who knows what the hell would've happened. All I know is, the time I spent in the gym with Derrick was brutal, but when it was all over I felt high as a kite. I'll never forget what Derrick did for me and how much of a great guy he was. I had to have been the biggest pain in his ass while I was preparing for the show, and yet he still stuck with me. He'll always be remembered by me as a great friend. May he rest in peace.

From Dave Liberman: I'm extremely upset over the loss of IFBB Pro Derrick Whitsett. I had the pleasure of working with him doing promotional appearances for the now defunct supplement company, Cybergenicsin the mid 1990's. We traveled and trained together quite a few times. I've been close to many pros in this industry but few were as humble and easy going as Derrick. I remember him telling me when he received his IFBB Pro Card, he was so happy, he framed it and hung it up. He was a good man, with a quite and driven disposition. He will greatly be missed. My most sincere condolences goe out to his family and friends during this extremely tough time. Rest In Peace, Derrick.

From Vinny Galanti: My thoughts go out to the family. I competed in the overall with Derrick at the 92 NJ State championships. Derrick was a nice guy and a great competitor. It was a pleasure and honor to know him.

From DMull: Derrick was a good friend of mine. I have known him since we were in high school. I will miss him dearly. He was a great guy with a real innocence to him. He loved bodybuilding more than anyone. He trained harder than most guys even after he initially got ill.

From Anthony Hugo2: You will always be remembered and your accomplishments never forgotten. God saw your potential and said come and follow me. You are now in good hands with the almighty God. My condolonsences to the family as God will give you strength and courage to put you through. Look up for inspiration. Peace be with all and you will be in my prayers.

From Ter Dani: Derrick was someone I knew personally and spent a lot of time with. I can not believe he is gone. He was a nice guy that would be willing to help anyone. Please remember his accomplishments and learn something from them. I will miss your laugh!!!!