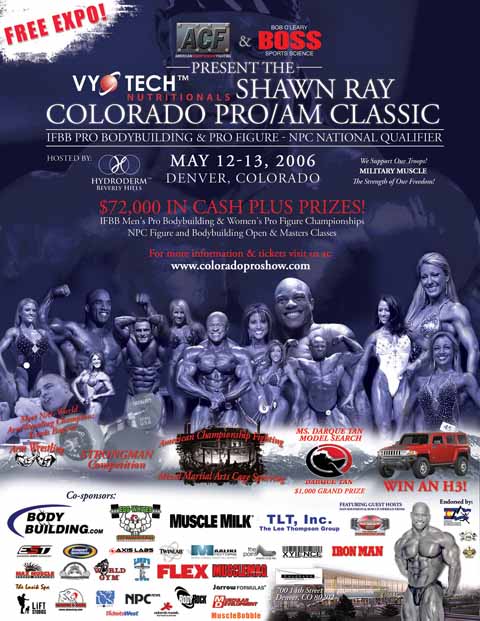 Notes on the Colorado Pro

It looks like to be the biggest Pro Prize Money behind the "O" and the Arnold Classic; there will be a Fitness EXPO Friday & Saturday; there will be Raffle Prizes for the Fans, including (Flat Screen TV, Resort Hotel Gift Packages, Spa Treatments, Tanning Gift Certificates, Dinner for 2, IPod's, Cell Phones, Gym Memberships, VIP Mr. Olympia Weekend Package and more...!)

The tentative Men's Prize Money is as follows:

1st: $25,000.00

2nd: $10,000.00

3rd: $5,000.00

4th: $4,000.00

5th: $3,000.00

6th: $1,000.00

7th: $1,000.00

8th: $1,000.00

9th: $1,000.00

10th: $1,000.00


*** Top 3 Qualify for Mr. Olympia

*** There will be a $10,000.00 Best Presentation Award

The tentative Pro Figure Prize Money is as follows:

1st: $5,000.00
2nd: $3,000.00
3rd: $2,000.00
4th: $1,000.00
5th: $1,000.00

*** Top 3 Qualify for the Figure Olympia

The Colorado Pro Show is promoted by: Shawn Ray & Jeff Taylor

Competitor List

IFBB Pro Bodybuilders tentatively scheduled to participate in the event:

Darrem Charles
Phil Heath
Bill Willmore
Marcus Haley
Kris Dim
Caprise Murray
George Farah
Frank Roberson
Ahmad Haidar
Ed Van Amsterdam
David Henry
Craig Richardson
Christian Lobarede
Mustafa Mohammad
Willie Stallings
Gilberto Pietro
Manfred Petautschnig
Miguel Filho
Johnny Moya
Evgeny Mishin
Martin Kjellstrom
Thomas Bengali
Pica Gian Enrico
Thomas Benagli
Zoran Vejic

IFBB Pro Figure tentatively scheduled to participate in the event:

Jenny Lynn
Jane Awad
Tara Scotti
Christine Pomponio-Pate
Alexis Ellis
Jeanette Freed
Zhanna Rotar
Liane Seiwald
Debbie Leung
Carla Sanchez
Pauline Nordin
Jennifer Searles
Barbara Englesman
Jennifer Bercerra
Bernadette Galvan
Lynsey Beattie
Andrea Dumon
Abby Duncan
Mascha Tieken
Alejandra Abdala
Alana Hernanadez
Inga Neverauskaite

Event Location & Schedule

Held at the Colorado Convention Center The Lecture Hall at the Colorado Convention Center features 5,000 fixed stadium style seats and has been designed as one of the most dynamic venues of its kind. This venue offers the best possible acoustics for concerts, shows and family spectaculars. For conventions and meetings the Lecture Hall has tremendous flexibility. It can be used for general session presentations or for concurrent sessions. It can be divided into three sections via a sound-proof, airwall system.

The full-service backstage offers individual dressing rooms, chorus dressing rooms, show offices and a greenroom. The Lecture Hall has its own loading dock with two end-load bays with one having side-load access.

The Lecture Hall includes state-of-the-art house sound and lighting. The main stage is 50 feet deep by 100 feet wide with a removable thrust. The tension grid system can accommodate rigging points virtually any where over the stage area.

Thursday, May 11th Evening 6-8pm

Friday, May 12th Morning 7- 9am

Friday Afternoon 12pm to 6pm


FREE EXPO, includes Sponsor Booths, Mixed Martial Arts, Arm Wrestling, Dance, Strongman, Seminars, Prizes & Give Away's, Meet the Pro's, Autographs, Photos and more!

Friday, May 12th - Evening: 7pm

Prejudging, includes Open NPC Men, IFBB Pro Figure Women, Male Pro Guest Poser

Saturday, May 13th: 10am-5pm

FREE EXPO. Win a Hummer H3, Plus: Flat Screen TV, IPod, Cell Phone, Lap Top Computer, Spa Package Treatment, Hotel Package, Dinner Certificates, Ski Lift Tickets, Rockies Baseball Tickets, Free Tanning, VIP Trip to Mr. Olympia Weekend and more!

Saturday Morning

Prejudging; Open NPC Women 9am; IFBB Pro Men 12pm

Saturday, May 13th - Evening 6pm

Finals
Guest Poser (8 yr. Old Fitness Girl)
NPC Open Women
NPC Open Men
Guest Poser (Fitness Pro) Adela Freidmansky Garcia
IFBB Pro Figure Women
Guest Poser (Fitness Pro) Jenny Hendershot
IFBB Pro Men


Ticket Prices

Prejudging - Friday, May 12, 2006, 6:00 PM
Price: $20.00 to $35.00

Prejudging - Saturday, May 13, 2006, 9:00 AM
Price: $20.00 to $35.00

Finals - Saturday, May 13, 2006, 6:00 PM
Price: $30.00 to $95.00

Hotel Info

Adam's Mark.
1550 Court Place, Denver, CO 80202
Hotel ph: (303) 893-3333

Located in the heart of Downtown Denver, The Adam's Mark is 3 1/2 blocks from the Convention Center, within walking distance of exciting visitor locations such as the Denver Art Museum and the State Capitol, and just minutes away from the Pepsi Center and Coors Field. Experience Denver's premier hotel, and allow us to exceed your expectations by personally making your stay as successful and enjoyable as possible. Adam's Mark-The Hotel of Denver.