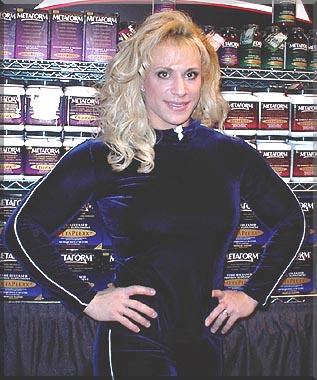 Born April 23, 1968 at Mattoon, Illinois, Kim was raised in Decatur, Illinois. Her height is 5'8". Her father was a football coach at Stephen Decatur High School, one time being drafted by the Los Angeles Rams. Kim went to Southern Illinois University, studying to be a paralegel. Kim is married to Chad Nicholls. They have a tiger-striped cat named Tigger.

Contests include the 1989 Tri-State Bodybuilding (Ilinois) 2nd; 1992 NPC Jnuir Nationals 1st; 1992 North American 1st; 1993 Ms. International 1st; 1993 Ms. Olympia 5th; 1994 Ms. International 5th; 1995 Ms. International 2nd; 1995 Ms. Olympia 2nd; 1996 Ms. International 1st; 1996 Ms. Olympia 1st; 1997 Ms. Olympia 1st; 1998 Ms. Olympia 1st;

Kim was signing autographs at the Weider booth.