---
All Natural

Muscular Development Magazine

For more information, call (800) 835-2246
---
September 1997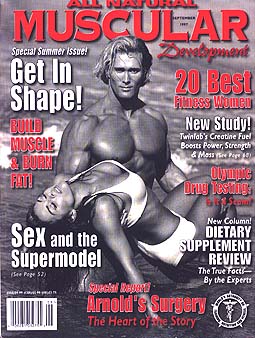 The stand for natural bodybuilding and less on the hardcore look is what Muscular Development stands for. With everything geared towards the natural look, it continues to attack steroids, drugs, etc. On the cover is Michael O' Hearn and his wife, Midajah.
Muscular Development, owned by Twinlab, is another serious bodybuilder magazine that concentrates on natural bodybuilding, but also covers fitness and health related items. They pride themselves on giving its readers extensive coverage on the cutting edge of training, diet and nutrition articles. It also has great pictures of bodybuilders, and makes for enjoyable reading.
---
September 1997 Table of Contents
Volume 34, Number 9
---
Features:
Overtraining and Immunity: The moment overload exceeds immune capacity, you succumb to disease or injury.
Special Report: Arnold's Surgery: Was it related to his part steroid use? The doctors get to the heart of the matter!
Creatine Supplements and Strength: What is the true value of creatine monohydrate for trainees?
Mike O'Hearn: A Man in Demand: When you think of great natural bodybuilders, this man's name may well be the first to come to mind.
Caribbean Bodybuilding at the Crossroads: More and more Caribbean bodybuilders are seeking to return our sport to its natural state.
All Natural Muscular Development's People's Choice Awards: 20 Best Fitness Women: The greatest fitness pictorial ever published! And now, for the first time, you can vote for your all time favorite!
The IFBB and the IOC - not too far apart! With a little cooperation and common sense, bodybuilding's Powers - That - Be can make a real difference in combating the scourge of drugs.
Optimal Shape: Part III. Customizing your upper body.
Research:
Hot Breaking Research: Phenomenal Factoids about fitness, health and nutrition.
Strength & Conditioning: Detraining in college basketball players... Steroid use among athletes... Metabolic Profile with resistance exercises.
Fat News: Chromium Picolinate causes fat loss and muscle gains.
Natural Training:
As I See It: An open letter to Arnold Schwarzenegger from Steve Reeves
Ask the Experts: Top of the Line Training Tips
Heavy Duty: The Industrial Revolution by Mike Mentzer
Natural Bodybuilding Digest: Who was your role model and why?
Labrada's Outlook: It's all about ego
Kinesiology: Chinning for a wider upper block
Thinking Big: Persistence.
Ask the Legend: Steve Reeves Q&A: Look younger, live longer.
Nutrition:
Best of Health: In the right mind for bodybuilding.
Eat to Win: Yo-Yo dieting linked to cancer.
Brian's Beef: The unbiased truth about current events in nutrition, medicine and science.
Muscle Meals: It's back! Just in time to celebrate John's new recipe book!
Health & Fitness:
Aerobic Training: Second Wind
Supplementation:
State of the Art: Glycemic Index and Performance... Rejuvenating Bones and Cartilage... Iron Overload and Disease... Keeping the Body Hydrated... More!
Dietary Supplement Review: New! When it comes to evaluating supplements, there are no easy answers.
Anabolic Review: Growth hormone for children... Steroids and brain chemistry... Muscle cell suicide...
Entertainment:
Muscle Mail: Senator Edward Kennedy lauds Steve Blechman and Twinlabs.
Mentzer Speaks! Better and lesser men
On the Web: Sex and the supermodel!
Wayne's Word: A contest for cheats
Romano's Rage Page: It's time to tell a few people off!
New Products & Classifieds:
Max Rep: Quadra quits bodybuilding? Something's not natural about this.
---