January 1998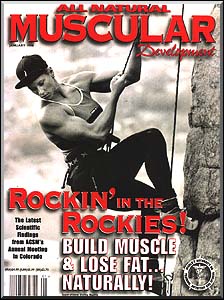 The look of natural bodybuilding and less on the hardcore look is what Muscular Development stands for. With everything geared towards the natural look, it continues to attack steroids, drugs, etc. On the cover is American Gladiators Shelley Beattie.
Muscular Development, owned by Twinlab, is another serious bodybuilder magazine that concentrates on natural bodybuilding, but also covers fitness and health related items. They pride themselves on giving its readers extensive coverage on the cutting edge of training, diet and nutrition articles. It also has great pictures of bodybuilders, and makes for enjoyable reading.
---
January 1998 Table of Contents
Volume 35, Number 1
---
Natural Training
AS I SEE IT
Should we drug test?
KINESIOLOGY:
Wide stance bench squats for great gluteals
HEAVY DUTY
Near death experiences
ASK THE LEGEND: STEVE REEVES Q&A
Small vs. Large muscles: Which to train first?
NATURAL BODYBUILDING DIGEST
Natural Bodybuilding - A year in review
LABRADA'S OUTLOOK
Who let in the perverts?
THINKING BIG
Inside the mind of a champion: Robert Washington
ASK THE EXPERTS
Partial Reps

Health & Fitness
BEST OF HEALTH
Prostaglandins

Nutrition
MUSCLE MEALS
A holiday meal you can eat
NUTRITION UPDATE
Glutamine "the great" - Part III

Research
HOT BREAKING RESEARCH
Phenomenal Factoids About Fitness, Health, Nutrition
STRENGTH & CONDITIONING
Best method to track percent fat... Creatine and supramaximal workloads ... One versus three sets ... Best abdominal exercises...

Supplementation
STATE OF THE ART
HMB as a safe and effective supplement ... a new antioxidant ... creatine boosts energy... more!
DRUGS IN SPORTS Q&A
Back on track: Craig Masback takes on the drug issue.
FAT NEWS
Ephedrine and caffeine study
ANABOLIC REVIEW
Anabolic steroids: Physical and mental effects ... Do androgens prevent Alzheimer's disease ... Insulin and Colon Cancer ...

Features
THE SCIENCE OF BODYBUILDING
15 'Overlooked' studies from the ACSM
ROGER ASMUS: AN ADONIS IN EDEN
Colorado's natural wonder does it all.
THE FIVE BIGGEST MISTAKES BODYBUILDERS MAKE
and how to avoid them
THE 1997 TWINLAB MILE HIGH IRONMAN ... NATURALLY
This is what rocking and rolling in the Rockies is all about
SIREN SAYS
An exclusive one on one with American Gladiator Shelley Beattie, the real future of women's fitness.
THE CAFFEINE ADVANTAGE
Are you getting it? (Would you like some?)
RICHARD FANTINI!
His torrid total body workout personifies the health aspen lifestyle.
EPHEDRA HERB (MA HAUNG):
THE NEXT HERB ON THE FDA'S HIT LIST
Millions have already used Ephedrine with Caffeine to achieve impressive fat losses.

Entertainment
MUSCLE MAIL
The naturals sound off ... the Joe Camel of Sports ... Non competitors use steroids too ... ,p>
ON THE WEB
Now fortified with sex bytes and diet bytes
CYBER-BUZZ
The latest scoop on health, fitness and Sports celebrities.
MENTZER SPEAKS
The big lie
WAYNE'S WORLD
Can bodybuilding be cleaned up without killing it?
ROMANO'S RAGE PAGE
Itís time to tell a few people off!
CLASSIFIEDS
ALL NATURAL MD NEW PRODUCTS
MAX REP
Quadra's cat is the victim of the great pussy snatch