---
Prime Health & Fitness Magazine

For more information, call (800) 521-0303
---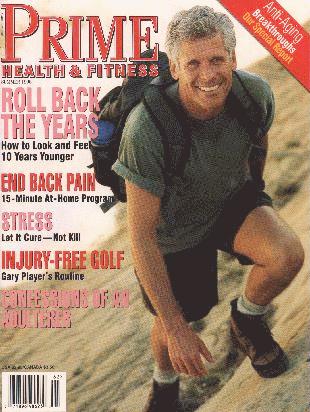 Summer 1996 issue as an excellent report on Anti-Aging, from the Academy of Anti-Aging Medicine Conference. Also are articles on Ozzie Smith, Billy Squier, and Ned Overend.
---
Prime Health & Fitness magazine is dedicated to the confident, active man over 35. It covers advice on all areas, including health, nutrition, mental fitness and sexuality, to graying hair, job stress, marriage, divorce and parenting. It is geared to the man who has no intentions of slowing down as he matures.





---
Table of Contests - Summer 1996 issue
---
Features
Fitter, Faster: Presenting the systemic training secrets of the masters of muscle.
The Food Factor. Take your cue from the athletes. To build muscle mass and lose fat, put protein on your place.
What's Love Got to Do with it? In an affair, you're playing with fire and may get burned. Should you take the risk?
End Back Pain: In 15 minutes a day? Yes, and feel younger that you have in years.
Boilerplate: Turn an ordinary bowl of pasta into your passport to a world of exotic eating.
On The Cutting Edge: Is plastic surgery the answer to looking younger? We go behind closed doors to find out.
Pumping Irons: Play stronger, injury free golf with these exercises inspired by Gary Player.
Olympic Grit: Will 40 year old mountain biker Ned Overend pedal for the gold this summer?
Departments
R&D: Fast takes on headaches and sex, improved push-ups, Bigfoot's worst nightmare and more.
Anti-Aging News: An exclusive report from the American Academy of Anti Aging Medicine Conference.
Extreme: How Billy Squier went from rock star to rock climber.
Nutrition: Tap into the life extending phytochemicals found in plants.
Phychology: Since you can't avoid it, make stress work for you.
Office Life: Tommorow's office can be your's today... here's how.
Do the Right Thing. Don't laugh. Yoga is a legitimate workout.
Warrior: Shortstop Ozzie Smith may be 41, but he still dazzles on the diamond.
Shifting Gears: How an ex-Marlboro Man found happiness and a new career
Supplements: Is the hunt for natural health care under FDA seige?
Parenting: What to do if your kid's a slug.. without being a jerk about it?
Grooming: Why you should get a manicure; taking the new colognes on a test run
Homage: Why I believe in Magic Johnson
---