---
Prime Health & Fitness Magazine

For more information, call (800) 521-0303
---
Spring 1997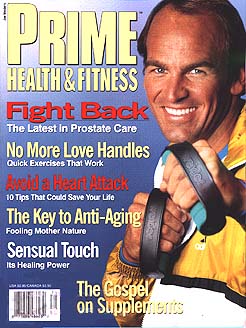 As one of the newer magazines for men over 35, the Spring issue has many interesting articles, including fighting fat, top 10 supplement rules, and much, much more. The model on the cover is Traig Trumbo.
Prime Health & Fitness magazine is dedicated to the confident, active man over 35. It covers advice on all areas, including health, nutrition, mental fitness and sexuality, to graying hair, job stress, marriage, divorce and parenting. It is geared to the man who has no intentions of slowing down as he matures.
---
Spring issue - Table of Contents
---
Features:
Calling Dr. Jellyfingers: The latest info on preventive action and medical techniques to keep your prostate healthy.
Kept your New Year's Resolution?" Hey, we all slip. It's time to come clean and try, try again.
Snack Attack: Follow this battle plan to ensure that your noshing remains low-fat and healthy.
Breaking away from it all: If you think spas are for sissie, think again. Discover five havens fit for a frazzled king.
The Power for Touch: Don't lose that loving feeling.
Feeling a little Angry: Don't bottle up your explosive feelings. Make your anger work for you.
Endurance: To go longer, and stronger, follow our conditioning workout.
Departments:
R&D: The latest on cyberhealth, saliva tests, anti-aging news and finding old friends.
Success Stories: Dennis Boyles finds it's never too late for a second chance.
Inspiration: A word from the (health) wise. Bob Delmonteque.
Longevity: Nature's wisdom sets the clock.
Essay: Feeling good with the mind-body connection.
Grooming: Hair potions: bald lies or a hair of hope?
Alternative Medicine: Addressing pressing issues with acupressure
Prevents: How to know if a heart attack is in your future.
Supplements: 10 Rules of supplementation, set in stone.
Flexibility: Crib notes from the Wharton's Stretch Book
Health: Homespun remedies for the cold front
10 Minute Workout: Get a grip on your love handles
Sex Life: If life's curves are getting you down, check out our straightforward advice.
Woman's Word: Who says only men should be chivalrous?
Expert Advice: The pros are in. Q&A on lat workouts, motivation and side stitches.
---